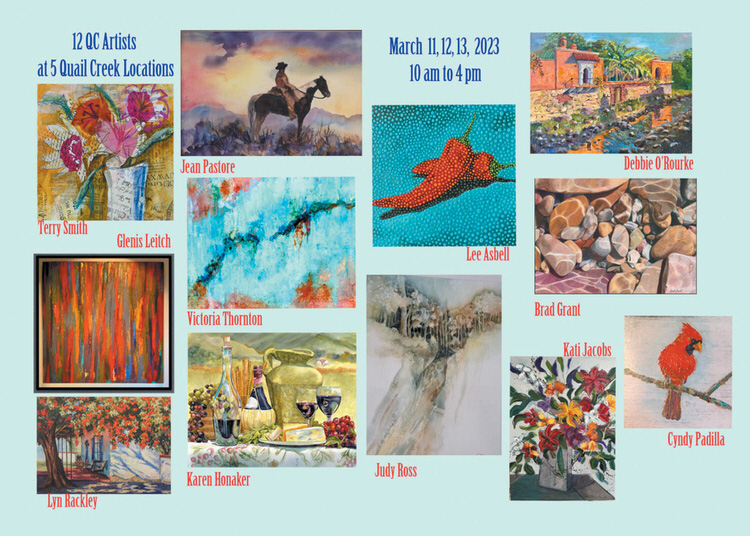 Spring is right around the corner, and that means it is time for one of Southern Arizona's biggest art show events—the Tubac Center of the Arts Open Studio Tour Weekend, during which many artists throughout the Santa Cruz Valley open their homes and display their art.
This year Quail Creek will be well represented with 12 different artists displaying a wide variety of art during the weekend of Friday, March 10, through Sunday, March 12. Hours each day are 10 a.m. until 4 p.m. Artists will be located at five different locations in Quail Creek.
The Open Studio Tour is a popular annual event, so mark your calendars and don't miss it.
2750 E. Eba Court
Lee Asbell (acrylic paintings)
Debbie O'Rourke (oils, watercolors, mixed media)
Jean Pastore (watercolors)
Victoria Thornton (resin paintings)
Brad Grant (oil, watercolor, oil pastel paintings)
2703 E. Glen Canyon Road
Glenis Leitch (oil and cold wax paintings)
578 N. Ramos Lane
Judy Ross (watercolors, weavings, mixed media)
Cyndy Padilla (watercolors, mixed media)
2275 E. Copper Valley Way
Karen Honaker (watercolors)
1101 N. Broken Hills Drive
Terry Smith (acrylic, collage, oil, mixed media paintings)
Kati Jacobs (acrylic, mixed media)
Lyn Rackley (oil, watercolor)