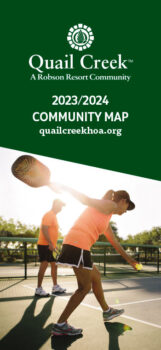 The Quail Creek Community Map
Published annually and delivered with the Source Book, the community map contains a wealth of information for residents and visitors alike. On one side of the map, the entire layout of the community is shown with a street diagram, walking trails, clubhouse locations, golf course layout, creative art centers, private and public manned entrance gates, fire stations, and business centers.
On the other side of the community map is an extensive city/county metropolitan area map, featuring the existing freeway/expressway system along with routes that are currently under construction and in long range future planning. Major commercial airports and various lakes and mountain preserves that surround the area are also highlighted.
|   | Business | Phone Number |
| --- | --- | --- |
| | 19th Hole Bar and Grille | 520-399-4653 |
| | B&D Custom Blinds | 520-790-4102 |
| | Bill's Home Service Company | 520-625-2381 |
| | Continental Design, Inc. | 520-648-3326 |
| | Continental Spa and Wellness Center | 520-906-8358 |
| | Dave Polsky Tire & Auto | 520-625-4700 |
| | Desert Wind Shutters | 520-365-3278 |
| | EMS Environmental Mitigation Services | 520-791-7904 |
| | GG Tile & Stone | 520-648-3735 |
| | Green Valley Financial and Senior Health Insurance | 520-399-3625 |
| | Green Valley Garage Doors | 520-625-9120 |
| | Green Valley Mortuary & Cemetery | 520-625-7400 |
| | Kat's Pals In Home Pet Services | 520-400-2353 |
| | Longhorn Grill and Saloon | 520-398-0700 |
| | Longhorn Outpost and Barbeque Company | 520-625-3044 |
| | Rick's Pest Control | 520-399-9005 |
| | Safeguard Estate and Financial | 520-800-0022 |
| | Scott Guerin Heating & Cooling | 520-648-2504 |
| | Seven Steps Design | 520-405-9960 |
| | State Farm Insurance - Skip Francisco | 520-648-2886 |
| | T & R Ironworks | 520-648-1819 |
| | Toy Brokers Tucson | 520-451-1936 |
| | United Community Health Center | 520-407-5600 |