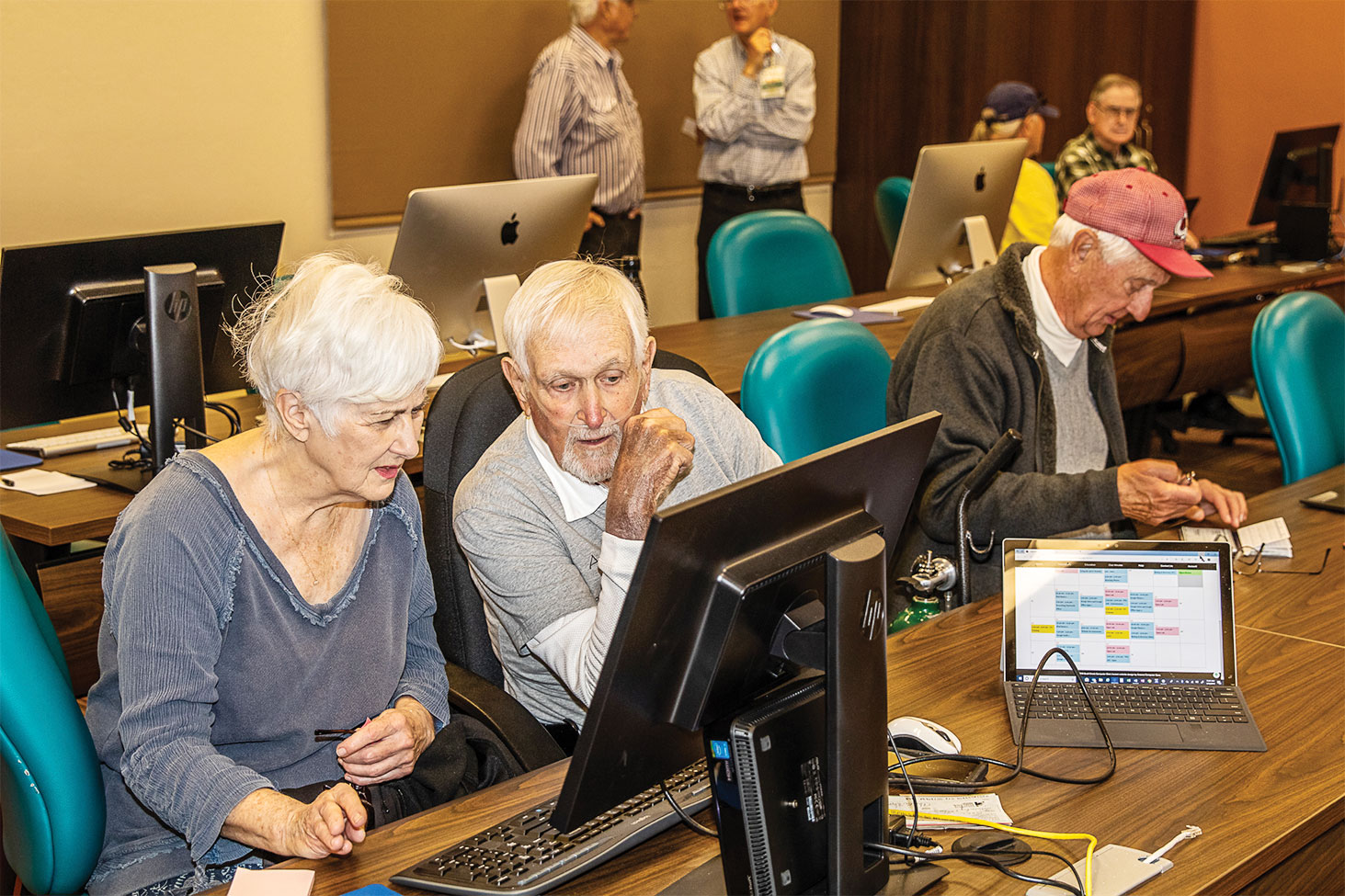 On January 12, the Quail Creek Computer Club held its annual open house. Invitations had been extended to the entire Quail Creek community for 2018 members to come and register for 2019, for non-members to come and learn about the club and to sign up for 2019 and for all 2018 and 2019 members to take part in a drawing for a number of door prizes. The Computer Club was building on a very successful 2018 when we finished the year with 490 members, up from 472 in 2017 and 420 in 2016.
The event, organized by Dianne Thomson, was very busy and exciting with well over 200 people attending. We had door prize tickets submitted from 136 households (one ticket per household) for the 14 door prizes. During the open house, we had 114 households pay their dues for 2019 and 50 new households with over 82 new members sign up. That puts the current club membership on track to exceed 2018 as new people move into Quail Creek and join. Our BOD, who were on duty for the entire event, answered a variety of questions, ranging from the content and timing of our many courses to how does an Open Lab and a Help session work.
Previous BOD Brenda Sawchuk enjoyed the task of phoning the winners and delivering the prizes. Ron Bates won the iPad which was the highly sought-after prize. Other door prize winners included: Fred Cook, Tom Haberer, Cathy Swanson, Diana Van Rossun, Kay DeVinck, Fred Wetternak, Jeffrey Webster, Stephanie Reynolds, Larry Waltrip, Brian Kimball, John McGee, Paul Barber and Janice McCoy.
The next general meeting of the Computer Club, open to all, will be February 26 at 7:00 p.m. in the Madera Ballroom. Chuck Gorley of the Computer Club will present a talk on "Do it Yourself" home automation. He will discuss all the options that are already here and those that are coming soon to transform your home into a "Smart Home".
If you are interested in learning more about the Computer Club, go to our website at quailcreekcomputerclub.org and click on the General Info tab. To see a calendar of current classes, click on the Education tab. To speak to someone about the club, come to the lab in the CATC building during Open Lab hours (which are listed on the website calendar). Dues are the same for one family member or two; only $20 per household for the calendar year.