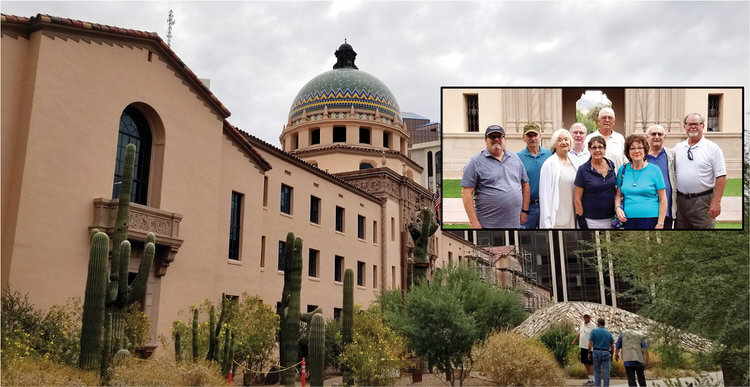 On Friday, June 17, nine members of the Quail Creek Science Club trekked north into Downtown Tucson to tour the Alfie Norville Gem & Mineral Museum in the beautiful Old Pima County Courthouse. The excellent displays of a great variety of rocks and gems from Arizona, the U.S., and the world were on display. Sections on mining technology, from which many specimens were derived, and finished gemstones were also part of the museum.
Separately, the courthouse second floor holds the courtroom where, in January 1934, notables like John Dillinger and three of his gang members were arraigned and held for extradition. It was said that people could pay to go through the jail to look at Dillinger in his cell.
The group also enjoyed lunch outside under the shade at TallBoys, a block away.
If interested in participating in the Quail Creek Science Club, meetings on a wide range of technical subjects (the cosmos, nature, weather, etc.) with optional participant discussion are held in the Madera Clubhouse Gold Room on Mondays from 4 to 6 p.m., and field trip are planned throughout the year. A technical degree is not required—just a curiosity for learning more about the world around us.
Contact Marty Cohen at [email protected] with any questions.