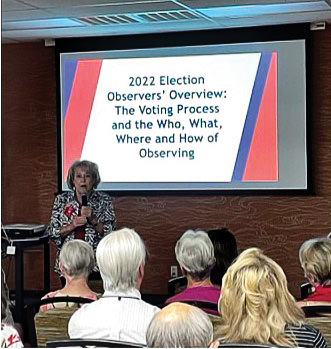 Rich Ulery, President, Quail Creek Republican Club
Members of the Quail Creek Republican Club (QCRC) are taking this election year seriously! From late May through the middle of July, four events have occurred or are planned that are preparing voters for this year's primary election on Aug. 2.
The QCRC sponsored a nonpartisan voter registration event on May 31 in the Madera Clubhouse. Several new residents registered to vote, updated their resident address, or changed party affiliation during the one-day event. On June 17 an overflow crowd in the Kino Conference Center viewed Dinesh D'Souza's movie 2000 Mules. Following the movie, more than 50 QCRC members attended a training session to be an election observer for this year's primary election. The training was provided by Sarah Ramsey, election integrity program manager for the Pima County Republican Party. Several members volunteered to serve this year.
While this article was submitted for publication prior to the event, the Quail Creek Republican Club "Kegger" held on June 29 was sold out weeks prior to the event. Attendees were treated to a ham/cheeseburger dinner with all the fixins', prepared by the wonderful Quail Creek banquet staff, with all beverages and kegs of beer provided by the Quail Creek Republican Club. We greeted many candidates running for office, who moved among the crowd, spoke with attendees, and distributed campaign materials. Candidates for U.S. Senate, U.S. House of Representatives, ttorney General, Arizona Corp. Commission, Arizona Legislature, local Town Council, and school board seats made final appeals for votes. The final QCRC meeting prior to the primary election will be on Friday, July 15, and will again feature additional candidates. Election activities will include phone calling to get out the vote, along with "rides to the polls" offered to QC residents needing transportation to vote. There will not be a polling place in Quail Creek this year.
The Quail Creek Republican Club continues to grow rapidly and now exceeds 280 members. They become more-educated voters and enjoy many educational and fun events throughout the year. Any QC resident interested in joining can visit the QCRC website www.quailcreekrepublicans.com for more information.