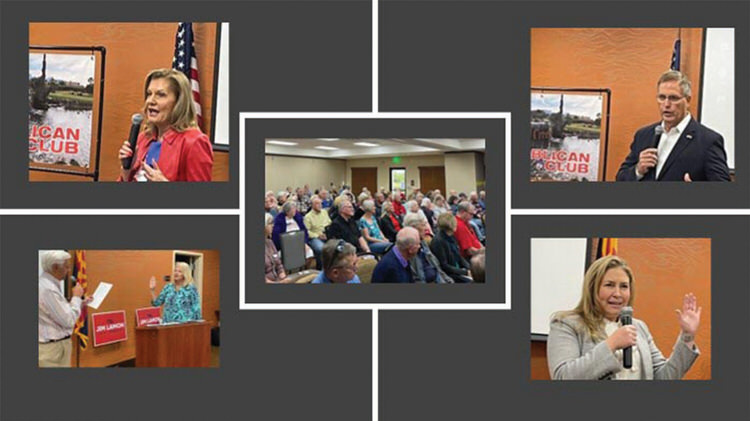 Rich Ulery, President, Quail Creek Republican Club
On Friday, Feb. 18, a capacity crowd attended the Quail Creek Republican Club (QCRC) monthly meeting. The club's objective this year is to introduce every republican candidate running for local, state, and federal offices in the Aug. 2, 2022, primary election to Quail Creek residents. Candidates are afforded the opportunity at every monthly meeting to present their qualifications and appeal for QC votes. During the meeting, President Rich Ulery introduced 15 new members who have joined the club since the January 2022 meeting, and also installed newly elected QCRC Membership Chairwoman Sherry Mayer.
Three republican candidates addressed a full house at the Feb. 18 meeting. Lacy Cooper, a republican candidate for Arizona attorney general and former border security section chief in the U.S Attorney's office, outlined her plans to secure the southern border and enforce Arizona law. Kathleen Winn, a republican candidate for the U.S. House of Representatives in the newly drawn congressional district 6, reviewed her priorities of securing the border, strongly supporting public safety and ensuring election integrity. Jim Lamon, a republican candidate for the United States Senate, discussed his plans for election integrity, parental school choice, a balanced budget, support of our veterans, and an economy that supports private sector job creation.
More candidates are scheduled to speak at upcoming meetings, which occur the third Friday of every month. All QCRC meetings are open to all Quail Creek residents.