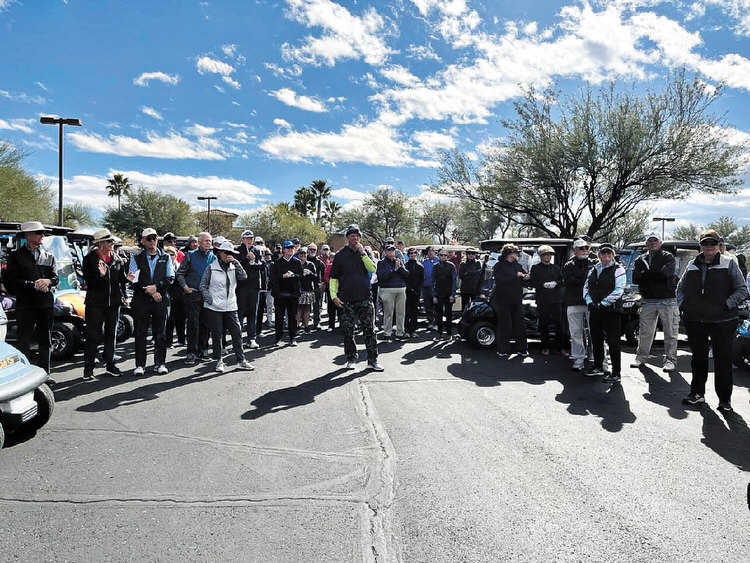 Our first monthly Quail Creek Couples Golf Association (QCCGA) event of the new year started with an afternoon shotgun. However, temperatures were very, very cool, with intermittent sunshine and a light breeze. Golf cart heaters, hand warmers, extra-warm clothing, and colorful knit hats were a must.
The new year started on the right foot with a record turnout of 96 players. Awesome! The largest group playing to date. A huge crowd had gathered with excitement and joyous anticipation before play as the tournament director discussed rules and guidelines at the Grill prestaging area.
Just like Mother Nature's low temperatures, scores were low, too. A posted 72 won overall low gross. Multiple teams recorded 64 for overall low net winners. Greens were fast and slippery on the Coyote course and slow and firm on Quail. Tight pin placements tested putting skills.
January set another record with an influx of 10 new members joining the league.
At prestaging, new members raise their hands as they are introduced and are wished a warm welcome by all. February brings warmer mornings and longer daylight hours, great for golfing. Our next event on Friday, Feb. 17, kicks off with a two-person Stableford Gross/Net. A $10 Skins Game per couple is optional. Spread the word to your friends of how much fun we have meeting and greeting new team associates in a friendly golfing environment. Please encourage everyone you know to join QCCGA.
The QCCGA officers thank you for supporting our monthly golf adventures. See ya on the course.