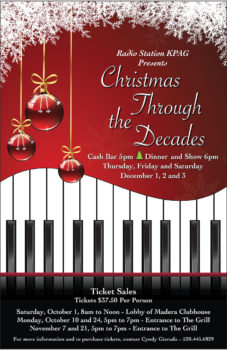 Put a little more fun in the season!
Did you miss the previous ticket sales for the 2016 Quail Creek Performing Arts Guild Christmas Show? Here are two more chances:
Monday evening, October 24 and Tuesday evening, November 1 at The Grill.
The show itself is on December 1, 2 and 3. We've kept the price the same as last year, just $37.50 for both dinner and the show. It's one of the best bargains in Quail Creek.
Come on and sit in on an old-time radio show presented by station KPAG. Christmas Through the Decades promises to be a fun, nostalgic walk down memory lane with music from the 40s through today, along with dance routines and a lot of laughs.
You'll be entertained by the Beach Boys, the Lennon Sisters, Mitch Miller, Elvis, Paul McCartney and Johnny Cash. Each number will be introduced by our radio announcers, plus you'll love the comments from our on-stage critics. And, on top of all that, you'll be served a delicious dinner as well.
This is the only Quail Creek Christmas show that is put on by your talented friends and neighbors. It's very popular, so don't wait until the last minute to get your tickets. Last year's show was completely sold out and we anticipate another enthusiastic response from our community.
Start practicing those Christmas carols and mark the dates on your calendar. For additional information, please call Cyndy Gierada at 520-445-6829. Ho! Ho! Ho!