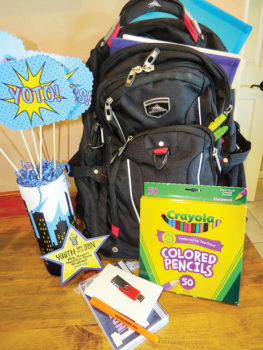 JoAnn Haberer
As you probably know, high school can be expensive. Many things that used to be provided by school districts are now the responsibility of students and their families. But what if you don't have a home, or in some cases, even a family? The Women of Quail Creek are teaming up with Youth On Their Own (YOTO) for a "Back to School Supply Drive" to provide homeless kids with the things they need to stay in school—and you can help.
Most needed items are quality adult-sized backpacks, flash drives, highlighters, pens and mechanical pencils, composition notebooks, folders and binders, gift cards in $10 and $25 amounts to places such as Target or Walmart.
Here's an idea for a fun summer project: Consider getting your book club, art and crafts friends, workout or walking buddies, golf foursome or other QC group to sponsor a "YOTO Backpack Shop-a-thon" and put together one or more backpacks with all of the above items included.
As you consider that, here are some sobering statistics. Arizona is the 5th worst state in the Union for childhood homelessness. There are 45 other states with fewer per capita children on the streets than we have here in Arizona. And, homeless children and youth are four times more likely to drop out of school than children who have a stable home to go to every night.
Supplies and backpacks can be dropped off in the YOTO bin at the Madera Clubhouse Monday through Friday, from 8:00 a.m. to 4:00 p.m. Or, contact Diane Quinn at [email protected] with questions or to drop off items at her home.
Many of us are not from Arizona, but this is our home now. Let's do what we can for our local kids. Let's help them stay in school. And let's give them a reason to believe that we care about their future and we care about them.