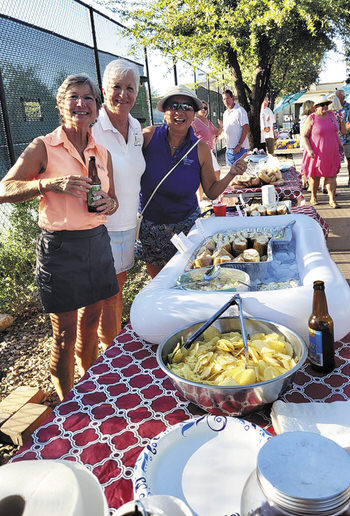 Carol Ann Fougere
The Quail Creek Tennis Club had an entertaining and enjoyable afternoon on Oct. 15 tasting Arizona craft beers; savory, juicy brats; and delectable hoagies. Sumptuous and plentiful delicious desserts complemented the Beerfest. Dinah Shumway organized an exciting and unique TEN-UTT game by turning Court 1 into a maze where participants used wooden racquets to putt tennis balls into a cup. Congratulations to Hilary Wade, who was the course champion, with the fewest putts out of 65 other participants. Kudos to the Social Committee, led by Sylvia Arnold, for putting together such an enjoyable and well-organized event.
This event reflects the vibrant and active community at the Quail Creek Tennis Club. With various social and tournament events, organized play, and tennis clinics, it's a great place for tennis enthusiasts of all levels to participate.
For more information and to get involved in tennis at Quail Creek, interested individuals can visit the club's website www.quailcreektennis.com. It's an excellent opportunity for anyone looking to enjoy tennis and social events in the Quail Creek community.