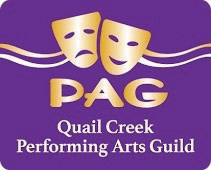 Maggie Brown
On Jan. 20 and 21 all QC residents are welcome to audition for the Performing Arts Guild's (PAG) spring show, Three One Act Comedies. Show dates are April 6, 7, and 8, with rehearsals beginning the last week of January. Needed are six women and three men. Never acted before? Are your friends telling you how funny you are? Well, why not give acting a shot? All those wishing to audition will be asked to fill out a contact sheet, and you should bring a list of conflicts during the rehearsal period—doctor appointments, scheduled trips, and dates of other commitments. These dates are needed to set rehearsal schedules.
Auditions will be held in the Saguaro Room at the Kino Center on Friday, Jan. 20, from 4:30 to 6 p.m. and on Saturday, Jan. 21, from 2 to 4 p.m.
Synopsis and Characters Needed:
Roy and Bunny: one male, one female—Directed by Michele Donatich, Assistant Director Maggie Brown
Have you ever wondered what your pets were doing while you were out? Roy is a senior, but his reactions are quick. He can go from looking like he's dead to 100% alertness in the blink of an eye. Bunny is also a senior and Roy's partner. She is dissatisfied with her lot in life and dreams of once again escaping.
Unbalanced Force: two males, two females—Directed by Sandi Hrovatin
Bob White, a retired Allstate claims adjustor, and friend Chuck, a fashion disaster with a pocket protector, have set out to scientifically prove there is an alternate universe. Bob's wife Doris has gone through one mental breakdown with Bob and is in denial that he might be heading for another one. Doris' friend Shelly, single and stylish, arrives to pick up Doris for a makeover appointment but ends up exposing a dangerous part of Bob and Chuck's alternate universe experiment.
The When I'm Gone Folder: three females—Directed by Maggie Brown
Three women, friends for many years, are employed by a local family-run winery in a small town. Their job is not only to work in the tasting room, but they are the tasters with the responsibility of writing up the "wine notes." If this was an episode of the Golden Girls, Dale could possibly be Dorothy, Evie possibly could be Rose, and Betty could possibly be Blanche. This one-act is all about the good and challenging parts of friendship, family, and finality.
To read the plays before auditioning, send an email to [email protected] Marked within the play will be the sections that will be used for the auditions. You may audition for as many roles as you wish.