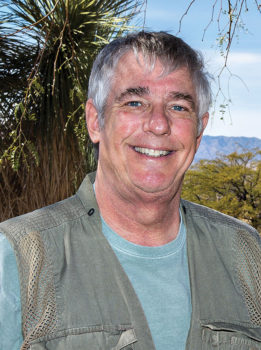 Joe and Linda Lohr
As previously announced, the annual election to fill one of the two resident-elected POA Board positions will be taking place soon. Being a Board Member is a commitment of time but can be very rewarding as it allows the member to make a positive contribution to the Quail Creek Community. You can make a difference!
Further information regarding qualifications required for candidates, the Candidate Package and deadline are available on the 2018 POA Election webpage. Hard copies are available at the Concierge Desk. In order for your candidate information to be published in the Quail Creek Crossing, your sealed letter of intent must be delivered to the Concierge Desk by 4:00 p.m. August 17, 2018. Final submission deadline is 5:00 p.m. Monday, September 10, 2018; however, submissions after 4:00 p.m. August 17 will not be published in the Quail Creek Crossing.
This year we are implementing electronic voting for our resident-elected POA Board Member Election. Electronic voting offers a significant cost savings to our election process. To vote electronically, a household must have an email address on record with the Northstar system. If you plan to vote electronically and are not sure if your email is on record in Northstar, please confirm your email with the Concierge Desk before October 9.
The Election Committee is pleased to announce that it has received a Letter of Intent from Jeff Krueger. We are excited that Jeff has become a candidate and we encourage other residents to join him on the ballot.
Jeff Krueger Bio
My name is Jeff Krueger. We built our home in Quail Creek in 2010, after being impressed with the community, lifestyle and the residents we had met. We retired here full time in 2013. Prior to retiring I was a senior executive at Mercury Marine as director of sales, service and marketing, managing an operational budget of more than $2 million and sales of over $100 million.
For many years I was on the board of directors of the Our World Underwater Scholarship Society sponsored by Rolex and a member of the Wisconsin State Legislative Council.
As a full-time Quail Creek resident, I am involved in many community activities. I am on the Quail Creek POA Board, President of the Photography Club of Quail Creek, board member of the QC Air Gun Club, member of the QC Performing Arts Guild and the QC Remote Control Club. I also volunteer my time as a photographer for many community clubs and activities. We continue to explore all that Quail Creek has to offer.
My reason for being on the POA board and running for election are simple. After attending many POA board meetings, I feel that it is important to be an active member of our community. My years as a corporate executive gave me many skills I can bring to the board, along with my time and energy.
I very much enjoy my involvement in the clubs and activities I belong to and those that Sharon and I do together. I would like to see the POA board help develop and build the many clubs and activities that are offered or could be created and help guide our growth as a community. I want to represent all Quail Creek residents in a positive and responsive manner.