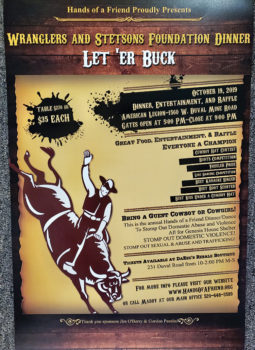 Dr. Madelaine Paschal
Howdy friends!
It's that time of year, that annual event, and it's rodeo time! And as you already know, October is Domestic Violence Awareness and Prevention Month. Patti O'Berry, Arizona's leading force in the fight against sexual abuse, domestic violence, and human trafficking, would like to invite you to help her stomp out this insidious crime by partnering with her on Oct 19, at the American Legion on Duval Mine Road in Green Valley. She will be taking names and kicking up a storm on the dance floor, all in the name of domestic violence prevention and the Genesis House Shelter.
Patti will open the gates at 5:00 p.m., and there will be live music from the Hot Flash Mamas, a raffle with some terrific western memorabilia (and lots of quilts!), down home cooking, and boot scootin' until 9:00 p.m. Patti will be giving out prizes in the cowboy boots and hats competitions, the line dance contests, and for the best kisses under a cowboy hat! There will be award-winning cowboy poetry and some pretty 'dern' good yodeling as well!
So, come on by DaZee's Resale Boutique at 231 Duval Road between the hours of 10:00 a.m. and 2:00 p.m., Monday through Saturday to purchase your tickets ($35 dollars per cowpoke and a table for eight is only $270), or give Patti a holler at 520-647-9906. She'll hold a table for you! (Limited seating available, so get 'em while they're hot!)
Let's get 'er done!
Save a life, protect a victim, and feed a child!