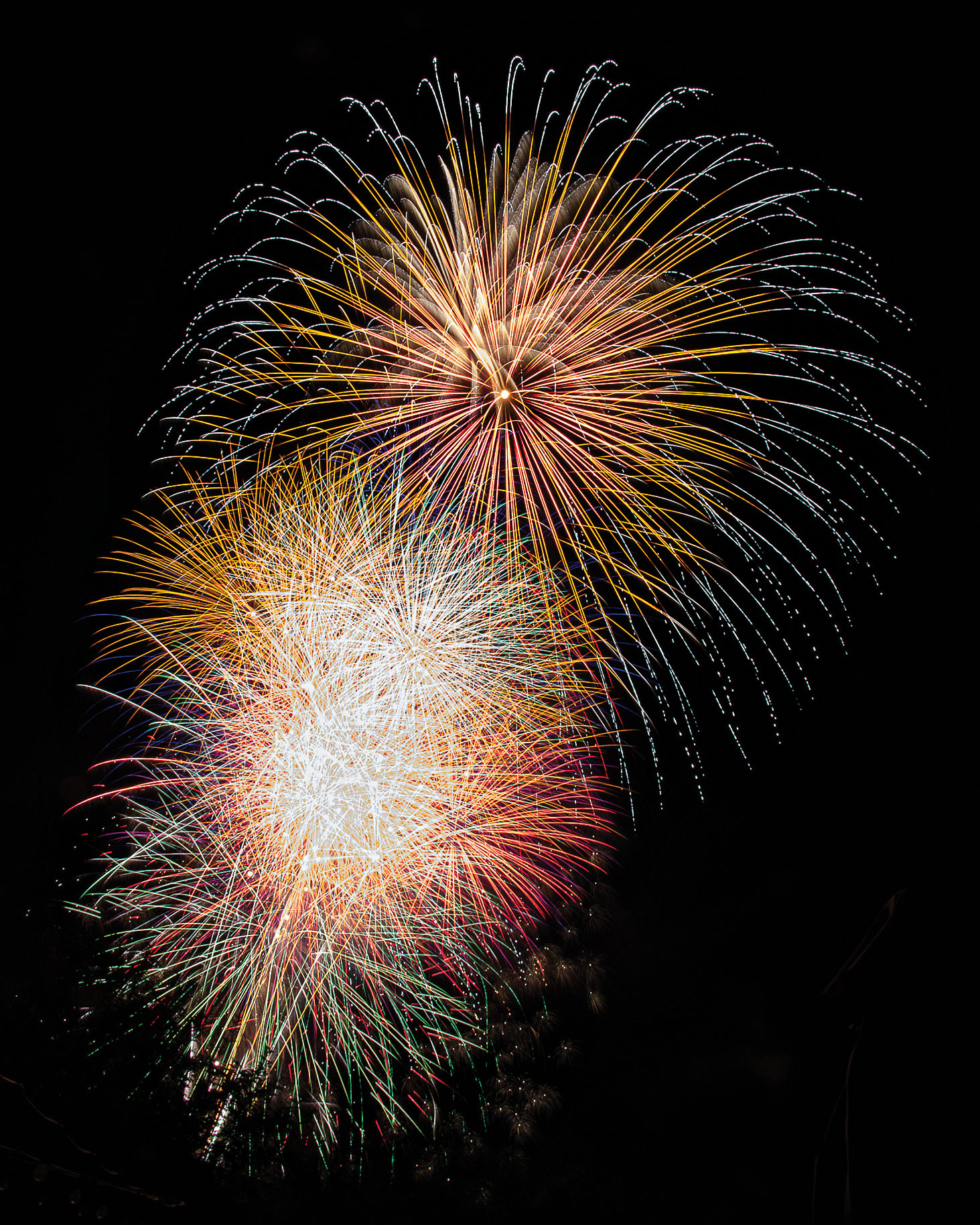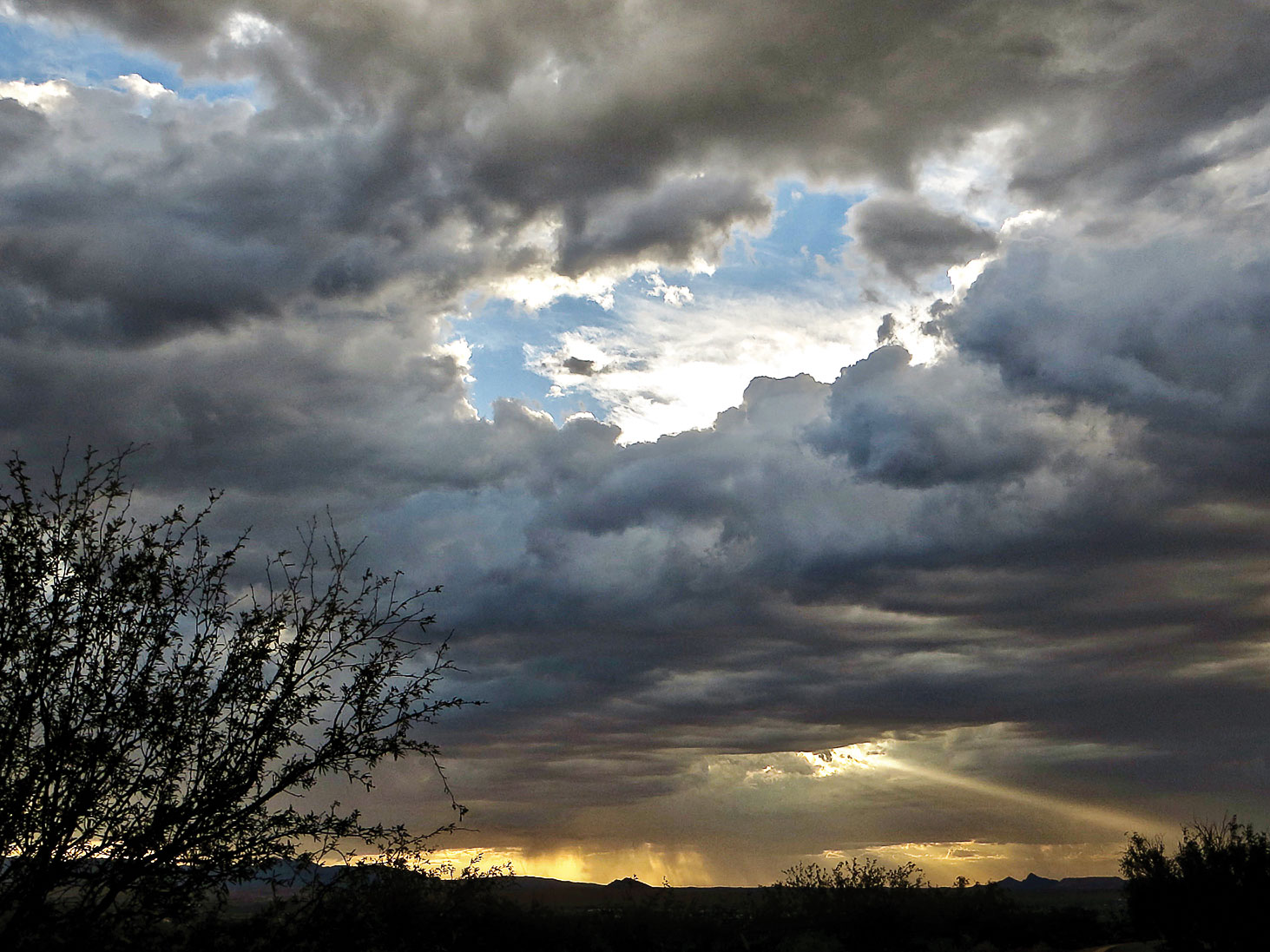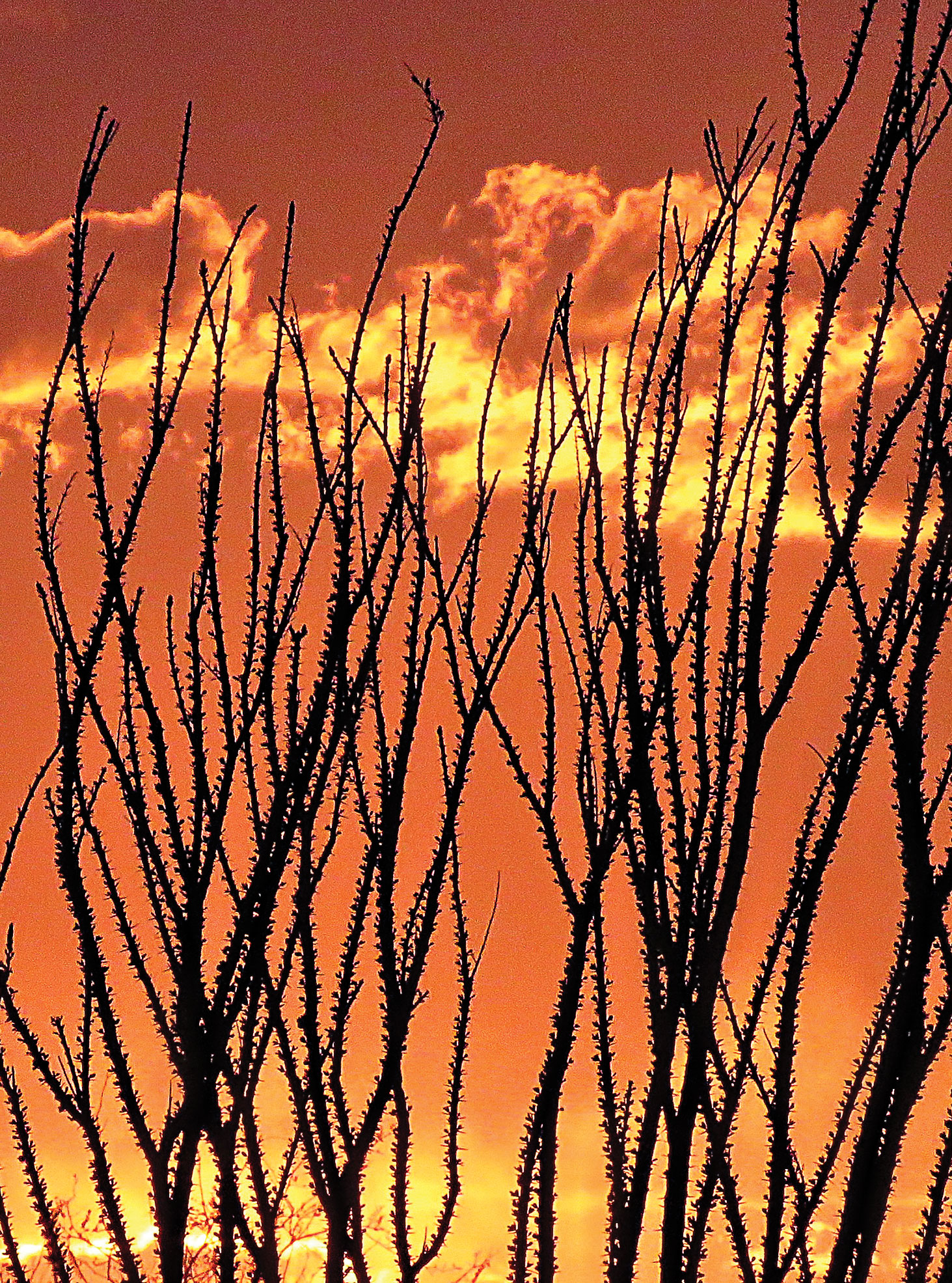 Jim Burkstrand
The Photo Club of Quail Creek continued into 2018 with its monthly members' contest having a theme of Dramatic Skies. Each club member could enter up to three photos taken in the last three years. This was a very popular subject, considering that southern Arizona has some of the best skies in the country. We had 28 submitted photos, all of which can be seen on our Flickr site:
https://www.flickr.com/photos/129343350@N08/albums/72157699450377154.
Denny Huber won First Place with his photo Fourth of July. Denny commented, "I was at the 4th of July fireworks in Sahuarita at a friend's house that was only about 200 yards from the launch spot, so we were very much underneath the blasts. The night was clear and a breeze was blowing the smoke away from us – perfect. I have an attachment for my camera that can make the camera take one exposure after another, indefinitely. So, the camera, on a tripod, of course, took about 250 five-second exposures. Most of the shots were not great but there were about 15 beauties that I kept. In Photoshop, most of the work was simply cropping and darkening the background a little." Denny shot this with a Canon Rebel T6s, focal length of 18 mm, 5 sec at f/22, ISO 800. It was processed with Photoshop Lightroom.
Vern Spohn won Second Place with his photo Sky 5. Vern commented, "The photo was taken in the Rocking K area near Vail, AZ where we lived before Quail Creek. We had beautiful sunset views there and this one impressed me because I love Ocotillos. I had to crop out a palm tree on the left side as it detracted from the silhouette effect." The picture was taken with a Canon Powershot SX60, at 72 mm, 1/400 sec and f/5.6, ISO 800. It was post processed with Photoscape.
The photo Sun Shaft by Steve Piepmeir placed third. His photo was taken July 7, 2018 about 7:00 p.m. Steve commented, "Dramatic Skies and the study of clouds is a favorite pastime as they reveal a lot about the day. After weeks of clear blue skies this was the first in a while of real cloud build up. Weather is a common denominator of life and affects each of us every day. Chasing this cloud took me to the foothills of the Santa Ritas and was our first rainstorm of the summer. We drove fast and got very wet for 20 minutes." Steve used a Canon Powershot SX260 at 7 mm, 1/400 sec, f/4, ISO 100. The photo was post processed in the camera.
The Photography Club of Quail Creek has a monthly photo contest for its members and also schedules numerous photo field trips for members throughout the year. Meetings are held the second Wednesday of the month at 7:00 p.m. at the Kino Conference Center, Mesquite Room. Room venue could vary each month. Consult the club's constantly updated website http://www.pcqc.org as well as the weekday HOA What's Happening for additional information.