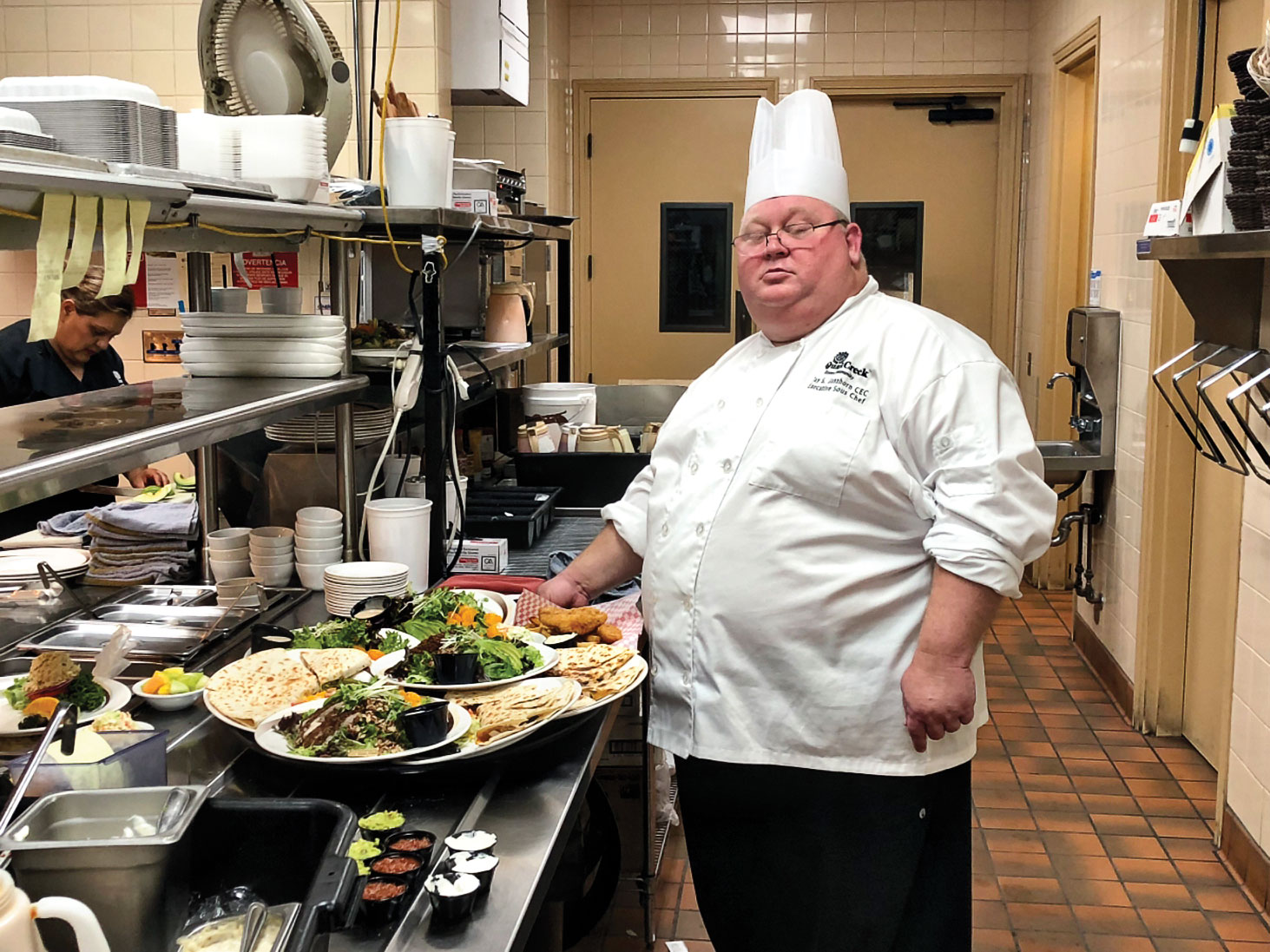 Cindy Mayron, Quail Creek Food & Beverage Committee
Jay S. Ganzhorn, CEC, started in July as the Grill's new Executive Sous Chef. "In French, Sous Chef means 'under chef' of the kitchen—the eyes and ears of the executive chef," said Chef Jay.
"Jay handles the day-to-day kitchen operations, food ordering, scheduling, production sheets, cleaning scheduling, food rotation (first in first out), menu/recipe development, and supervises all of the kitchen staff," said Executive Chef and Food & Beverage manager Aris Cabrera.
Chef Jay is a CEC, Certified Executive Chef, and earned an Associate degree at Pima Community College in Applied Science of Culinary Art. He did a three-year apprenticeship at Hacienda del Sol Resort in Tucson. During this time, he met Chef Aris when they were apprentices and members of the American Culinary Federation. "We both joined the 'junior team' and competed in several state competitions—winning three bronze medals. Years later I became president of the Tucson Chapter and he was the vice-president," said Chef Aris.
After finishing another apprenticeship and a short-term job as a chef supervisor at Miguel's at La Posada Lodge in Tucson, his personal life threw him a curve ball. "Each of my daughters were born premature. I spent a year-and-a-half at hospitals during this time. After seeing the quality of food being served, it made me sad and I decided I wanted to give something back." Chef Jay then joined Northwest Medical Center and served 11 years as the Executive Chef.
"After our last Executive Sous Chef left two years ago, we decided to wait until the Grill reopening was closer before we started looking for a new sous chef. I reached out to the culinary community for possible candidates. When I called Jay asking if he knew of someone who might be interested, he replied: 'Yes, me!'"
Before coming to Quail Creek, he spent a year at the Hacienda del Lago Golf Club in Vail. "Even though I grew up in Tucson, I'm new to Green Valley." He lives in Tucson near the Tucson Mall with his 13-year-old daughter who lives with him part time. "She hates everything I cook right now, especially anything made from scratch." When Chef Jay started here, he had one of those small world moments. He and Banquet Manager, Daniel Pacheco, graduated the same year from the same high school, although they didn't know each other then.
"Jay is a great culinarian, passionate about the food industry and loves what he does. Having another CEC 100 percent of the time in the kitchen is going to be beneficial for all aspects of our food services: employee training, new menu ideas, checking for consistency in products from our suppliers as well as production in the kitchen. I believe we are the only kitchen in Arizona that has two Certified Executive Chefs," Chef Aris added.
"I think the new restaurant is going to be creating some exciting food," Chef Jay added.