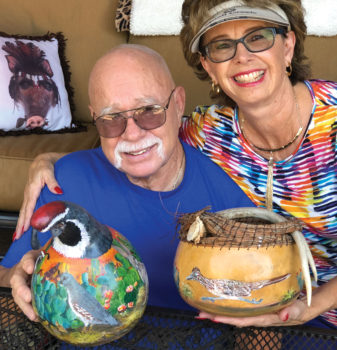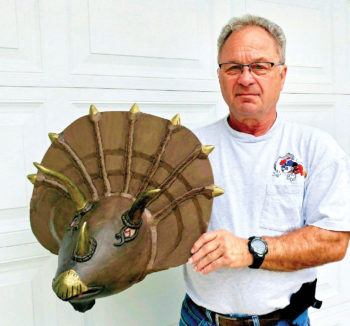 Carol Signore
Quail Creek added eight new members in 2018 including some very talented new Gourdy Guys.
One new gourder, Ken Bahr, has taken an innovative approach to mask making by combining his previous woodworking experience with brand new gourding skills. He recently transformed a large round body gourd, with thick wood dowels he hand-sanded and shaped four horns, Apoxie clay and two rounded pieces of masonite, to produce the fabulous Triceratops mask.
Another new gourd club member, George Mynatt, has begun blending his acrylic painting experience with Fracking, a unique way to scatter lightning like burn streaks across a gourd's surface. George uses a live electrical charge (with great care and safety) to create a jagged fractal pattern in the surface of his gourd before applying ink dyes, acrylics or metal leafing.
Ron Caldwell and his wife Christy are long time members of the QC Gourd club and they often make gourd art together. He loves to paint his gourds with acrylics and ink dyes using the gourd's three-dimensional canvas to full 3-D advantage. Christy loves to weave unusual frames for his pieces. The results are a beautiful harmony!
Gourd Club members use the Fine Arts Room of Quail Creek's beautiful Arts and Technology Center three days each week. Here the club has lots of space for members to spread out their work, learn new skills and access their own, or the club's, collection of tools and gourds. Tuesday afternoons from 1:00-3:00 p.m. are a special gathering time for members. Anyone interested in the club can almost always find some gourders there then, working on club business, socializing, and catching up on each other's projects and progress. It's also a great time to share creative struggles with a knotty gourd issue or expand your learning with the help of a more experienced gourder. Brainstorming together is always fun and often solves even the toughest problems! Best of all, it's an exhilarating opportunity to share newly minted gourd art in a place, among friends, where it can be genuinely admired and celebrated.