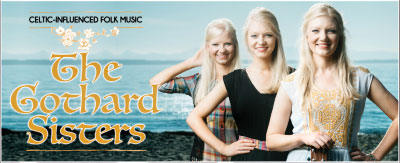 The Gothard Sisters will entertain us on Monday, February 18, 2019, at 7:00 p.m. for $25. The show is presented by TAD Management.
The Gothard Sisters are a dynamic group of three sisters, whose impressive array of talents have set them apart as one of the most refreshing and compelling acts in Celtic music today. The sisters' unpredictable and theatrical flair brings a youthful splash to the time-honored tradition of Celtic folk music, bridging the gap between modern Pop and Folk-Rock with a sunny, optimistic style that has been described as "beautifully-arranged, melodic-minded Celtic Folk-Pop."
All sales are final (no refunds or exchanges).
Tickets are available at Quailcreek.ShoWare.com, at the Madera Clubhouse Concierge Desk or call 520-393-5822.