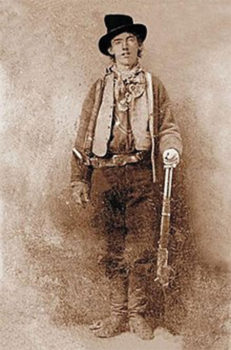 The Wild West Series III: Billy the Kid and the Lincoln County War will be on Monday, February 26, 2018. Showtime begins at 6:00 p.m. in the Madera Clubhouse Crystal Ballroom. Ticket price is $7.
Everybody knows Billy the Kid. But there is so much more to the legend. For instance, what had been described as the Lincoln County War, was started over a life insurance claim. This revelation and much more will be discussed by resident historian Scott Dyke when he presents the facts in February at the Madera Clubhouse. Scott and guest presenter Bob Palmquist will deliver their take from personal research, about one of the West's iconic dust-ups. Palmquist, a Tucson attorney, has long been recognized nationally as a knowledgeable authority of Western history. He conducts historical classes for Pima County Community College, and has been a long-time contributor to several western history magazines.
Dyke, a resident of Quail Creek, is well recognized for his knowledge of Tombstone and Wyatt Earp. He authors an award-winning column, "Meandering the Mesquite" featured in the Wick Group newspaper, Green Valley News. Both men have been published in prominent national western history magazines for years. This presentation is the third of the series "The Wild West" The previous two, "Gunfight at the OK Corral" and "Battle of the Little Big Horn" were sold out.
"This is a great story, a story that has been mangled by Hollywood," Dyke commented, "The real story is fascinating and a complex saga of power and politics. You might come away with a different view of the Kid. In any event, we will give you the facts such as they are."
Tickets, on a first come basis, can be purchased at QuailCreek.ShoWare.com. All sales are final (no refunds
or exchanges).