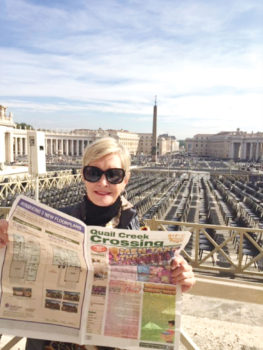 Connie Bandstra, POA Board Representative
Ruth Naponick, Quail Creek resident, just couldn't leave home without her copy of the The Crossing and was found reading it in Rome at St. Peter's Basilica Square. Ruth's recent travels took her to Rome, Florence and Venice, Italy.
Where in the world will you take your copy of the The Crossing?
Beginning January 2019, we will have a quarterly drawing of residents viewing their copy of the Quail Creek Crossing anywhere in the world. One lucky drawing winner will receive a $50 gift certificate to The Grill. We hope you will join in the fun of seeing where all our residents find themselves reading The Crossing. Photos must include QC resident with identifying backdrop, while reading a copy of The Crossing to qualify for the drawing.
Please submit your photo copy and the place you've visited by the 15th of each month to Connie Bandstra, [email protected] For the January submission, all photos and copy must be submitted by December 15. The POA Board hopes you will have fun with us and let us know: Where in the world are you reading The Crossing.