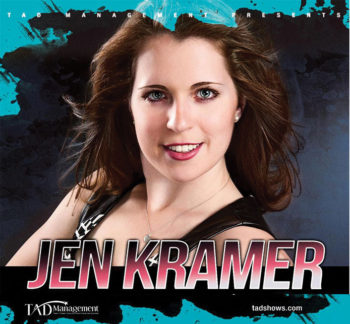 Vegas Magician, starring Jen Kramer, will be presented Monday, January 22, 2018, at 7:00 p.m. in the Madera Clubhouse Ballroom with a Cash Bar opening at 6:00 p.m. This show is produced by TAD Management and tickets are $25.
One of America's most celebrated young magicians, Jen has been wowing audiences around the globe for over a decade with her contagious smile and world-class sleight-of-hand. A recipient of the prestigious Merlin Award, Jen was named 2016 Female Magician of the Year by the International Magicians Society. She currently headlines her regular show at Wyndham's Grand Desert Resort and Marriott's Grand Chateau in Las Vegas.
Jen graduated with honors in Theater from Yale University, where she served as Founder and President of the Yale Magic Society. Her performances are full of comedy, audience participation and jaw-dropping fun. Magic legend David Blaine called Jen "hugely gifted" and described her as "one of the most talented and most promising young magicians anywhere." As a fun fact, in addition to English, Jen speaks French, Spanish and Swahili and has performed magic in all of these languages.
Cash Bar will remain open through the 15 minute intermission. Beverages purchased at the Cash Bar are permitted in the ballroom.
Tickets available at QuailCreek.ShoWare.com; all sales final (no refunds or exchanges)