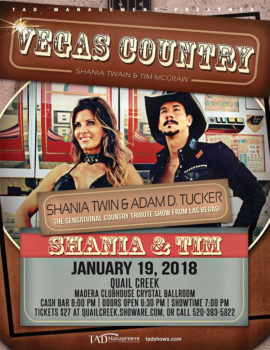 Vegas Country, produced by TAD Management and starring Donna Huber and Adam D. Tucker, will be presented on Friday, January 19, 2018, at 7:00 p.m. in the Madera Clubhouse Ballroom. A Cash Bar opens at 6:00 p.m. and tickets are $27.
Donna Huber is the world's No. 1 tribute to Shania Twain! So much so that Shania herself said, "I thought that was me for a moment—she's the best one!" Close your eyes and it's just like being at a Shania concert!
This Tim McGraw tribute performed by Nashville recording artist and Las Vegas Entertainer Adam D. Tucker accurately recreates the music and mystique of country music ICON Tim McGraw. The timeless sound of Tim McGraw proves appealing to audiences of all ages, bringing back memories and touching the hearts of all. This talented group of musicians showcases Tim McGraw's mega-hits from the 90s such as Don't Take the Girl, I Like it I Love it, Everywhere and his current radio hits of today!
When you pair Adam with the best Shania show out there, you have two Nashville legends in the house!
Tickets available at QuailCreek.ShoWare.com
All sales final (no refunds or exchanges)