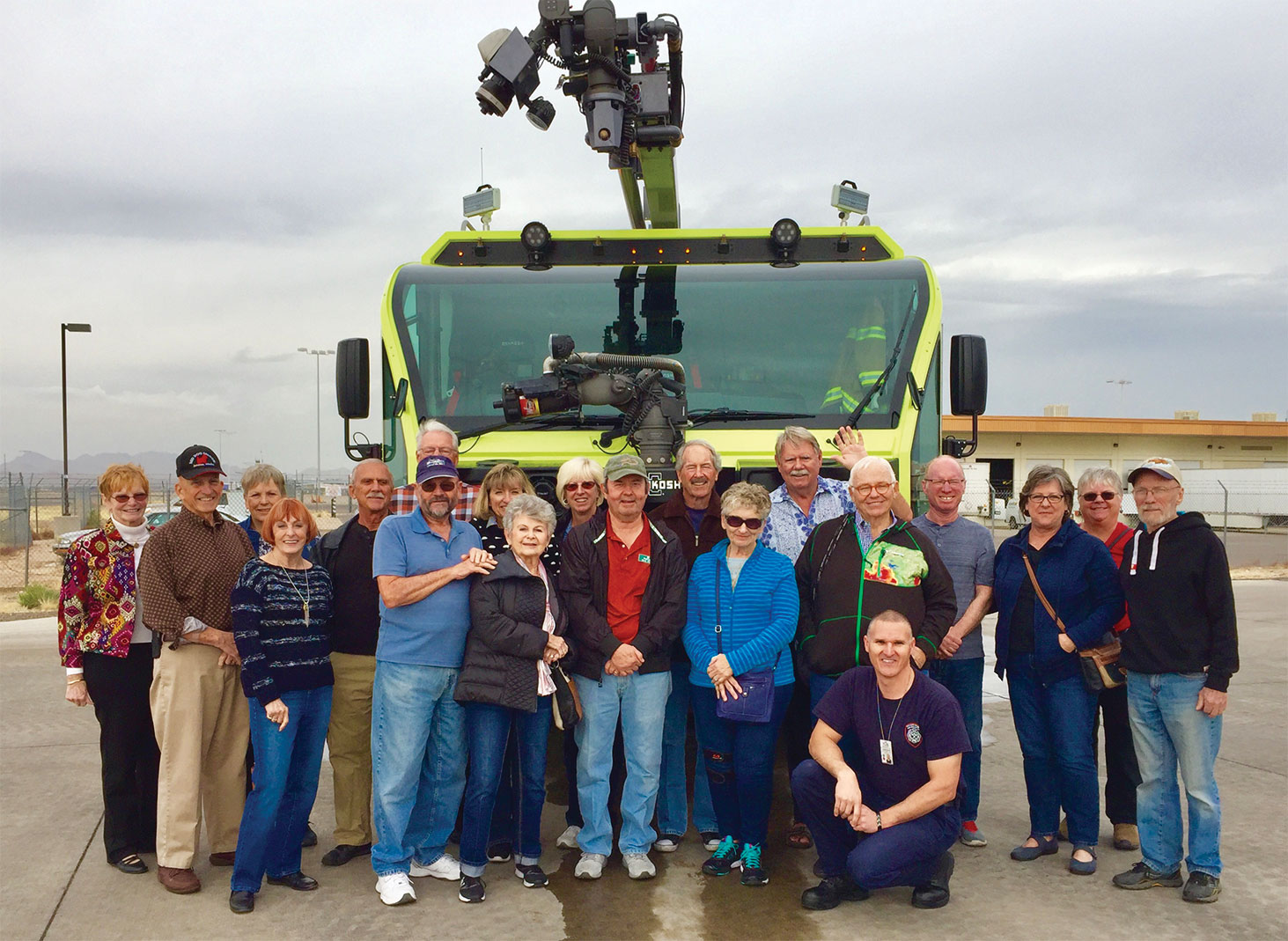 Maryellen Farmer
Quail Creek residents know well what the Tucson Airport experience is for a harried traveler, but those taking the TRIPS Behind the Scenes Tour got an insider's view of areas that passengers would never see and learned about the history of Tucson International Airport.
Tucson Airport is celebrating 90 years of air service, beginning with Standard Air (a prior name of American Airlines) operating the mail route to southern Arizona. The original airport, located at the Nogales Rodeo Grounds, was the first municipal airport in the nation. Its first commercial airline, Frontier, began flights in 1950, and its first international airline was Aeronaves de Mexico. Today's airport consists of over 8,500 acres at the TIA site, includes 130 buildings, and accommodates about 60 tenants. Some of these tenants include Raytheon, Skywest, Bombardier, the nation's largest Air National Guard Base, and a facility for training pilots from allied foreign nations. A 28-million-dollar improvement project is underway, and new routes are expected soon from Sun Country and Alaska Airlines.
After a presentation, tour members visited a calm, comfortable lounge and art gallery that few travelers know exist. They went behind locked doors to visit secure operations areas where they saw what happens on the field from ground level, where luggage goes after it disappears from view at the check-in counter, and how the underground fueling system is used.
Next, the group drove a short distance to the Tucson Airport Authority Fire Station, where they spent a good deal of time checking out the oversized fire equipment and watched demonstrations of the equipment in action, showing how aircraft and fuel fires are fought. Visitors were also given a demonstration of the "jaws of life" and allowed an opportunity to sit in the driver's seat of the fire trucks.
The tour ended at the TTT Truck Stop on Benson Highway, where the tour members had lunch at Chef Omar's Highway Diner.