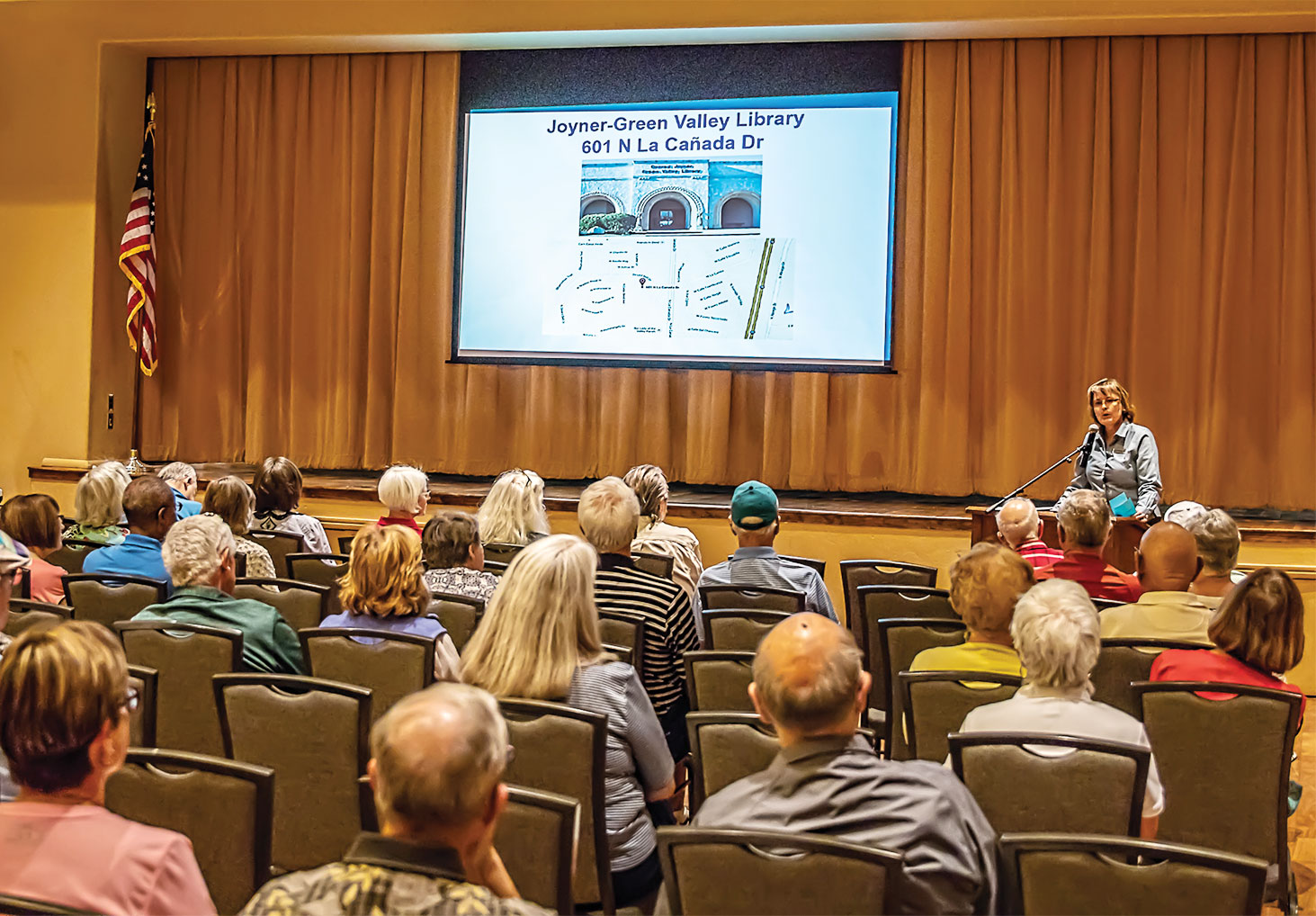 Jim Burkstrand
On April 24, the Quail Creek Computer Club held its monthly meeting. After a short business meeting led by President Harold Baker, Kathy Konecny, the manager and head librarian of Joyner-Green Valley Library, presented a talk entitled Using the E-Library. This meeting and presentation were well attended with over 65 people present.
Kathy and two of her staff members presented a talk outlining all of the services that the library provides electronically. The presentation slides were supplemented with on-line internet demonstrations.
Many in the audience were familiar with the basic downloading and reading of electronic books to their Kindles using the application Overdrive. We were told about two more applications to use to get the e-books and audiobooks: Libby and RB Digital. Both have some significant advantages. RB digital also has access to a wide variety of magazines, which can be downloaded and read instantly.
Two other applications were shown and discussed: Kanopy and Freegal. Kanopy lets the user stream independent and international films, as well as documentaries and other educational material. Freegal allows the user download five free songs per week, and keep them. Finally, Kathy presented resources on learning a language through Pronunciator; reading newspapers through Newsbank and Infotrac; access to Consumer Reports; BrainHQ; NoveList Plus; and Clinton Auto Repair. The presentation and demonstrations were followed by a question and answer session in which the audience asked numerous questions about all the new material.
The next general meeting of the Computer Club, open to all residents, will be September 18 at 7:00 pm in the Madera Ballroom. The topic of the presentation will be announced.
If you are interested in learning more about the Computer Club, go to our website at quailcreekcomputerclub.org and click on the General Info tab. To see a calendar of current classes, click on the Education tab. To speak to someone about the club, come to the lab in the CATC building during Open Lab hours (which are listed on the website calendar). Dues are the same for one family member or two; only $20 per household for the calendar year.