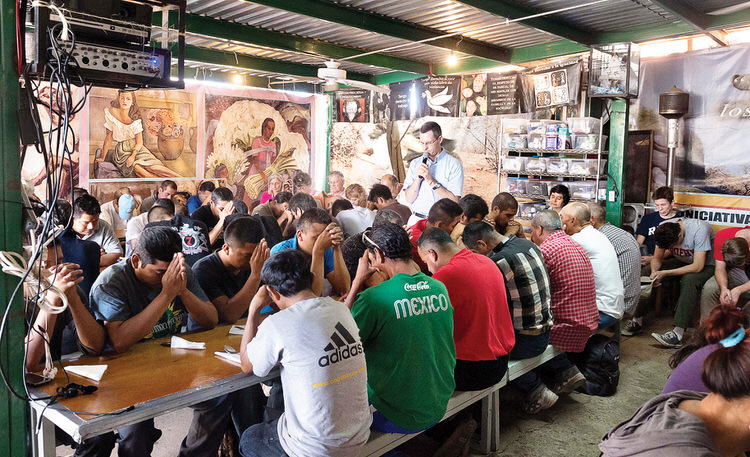 Marybeth Bates
The Democratic Club of Quail Creek's (DCQC) guest speaker is Joanna Williams, the new executive director for the Kino Border Initiative (KBI). KBI's vision is "a humane, just, workable migration between the U.S. and Mexico." Its mission is to promote U.S. and Mexico border and immigration policies that affirm the dignity of the human person and a spirit of bi-national solidarity through: direct humanitarian assistance, social and pastoral education with communities on both sides of the border, and participation in collaborative networks that engage in research and advocacy to transform local, regional, and national immigration policies.
KBI first showed up on DCQC's radar in 2016 when Father Sean Carroll, KBI's executive director for Nogales, Ariz., and Nogales, Sonora, Mexico, came to speak to our then-small group, in a member's home. We were amazed and touched as he explained their program.
Daily, week after week, in Nogales, Sonora, a hearty meal was prepared in the tiny kitchen of the comedor (dining room) by a few Mexican women and served by them and volunteers to migrants who'd been deported. Almost as important as the meal, were the prayers, guidance, and talks of encouragement and hope before the meal. After the meal, bilingual volunteers were available to give legal assistance. Also available were free handouts of soaps, shampoos, and some clothing, and charging stations so the clients could charge their phones. There was an abundance of gratitude from KBI's clients. All of this happened in the very small comedor.
While Joanna may be the new executive director, she isn't new to KBI. More than ten years ago, she came to KBI as a full-time volunteer for several months. After that, she accompanied migrants in a variety of capacities, including through Fulbright research on the reintegration of returned and deported migrants in the Mexican states of Jalisco and Puebla and worked on the ACLU of Arizona's border rights program. Joanna has served as the KBI's director of education and Advocacy for nearly six years and in that time has designed and led programs critical to KBI's mission.
The community is invited to meet and hear Joanna Williams at the Democratic Club of Quail Creek's Aug. 21 meeting at 3 p.m. in the Madera Clubhouse, Silver Room.