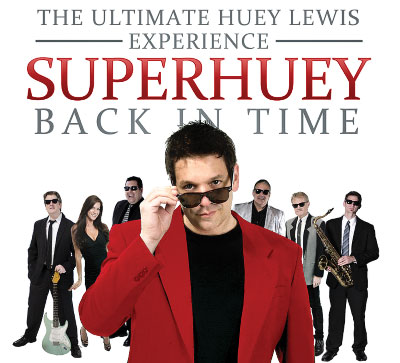 Super Huey – The Ultimate Huey Lewis Experience, produced by TAD Management, will take place Friday, March 16, 2018, at 7:00 p.m. in the Madera Clubhouse Ballroom. A Cash Bar opens at 6:00 p.m. Ticket price is $27.
Super Huey – The Ultimate Huey Lewis Experience – is the only show of its kind anywhere in the nation. With their super high-energy faithful renditions of feel good music that defined a generation, Super Huey is a seven-piece explosion of 1980s rock power that has performed across the United States.
Huey Lewis and The News have carried the banner as the quintessential American rock band – endeared by millions of fans and earning them the right to mark their place in pop music history. With a nearly unbroken string of hit songs, their music became the soundtrack for a generation. During the 1980s and early 90s they scored a total of 19 top-ten singles across the Billboard Hot 100, Adult Contemporary and Mainstream Rock charts.
Grab your 501 jeans, Ray-Bans, linen sport coat and skinny tie because you're goin' back in time with Super Huey!
Tickets available at QuailCreek.ShoWare.com
All sales final (no refunds or exchanges)