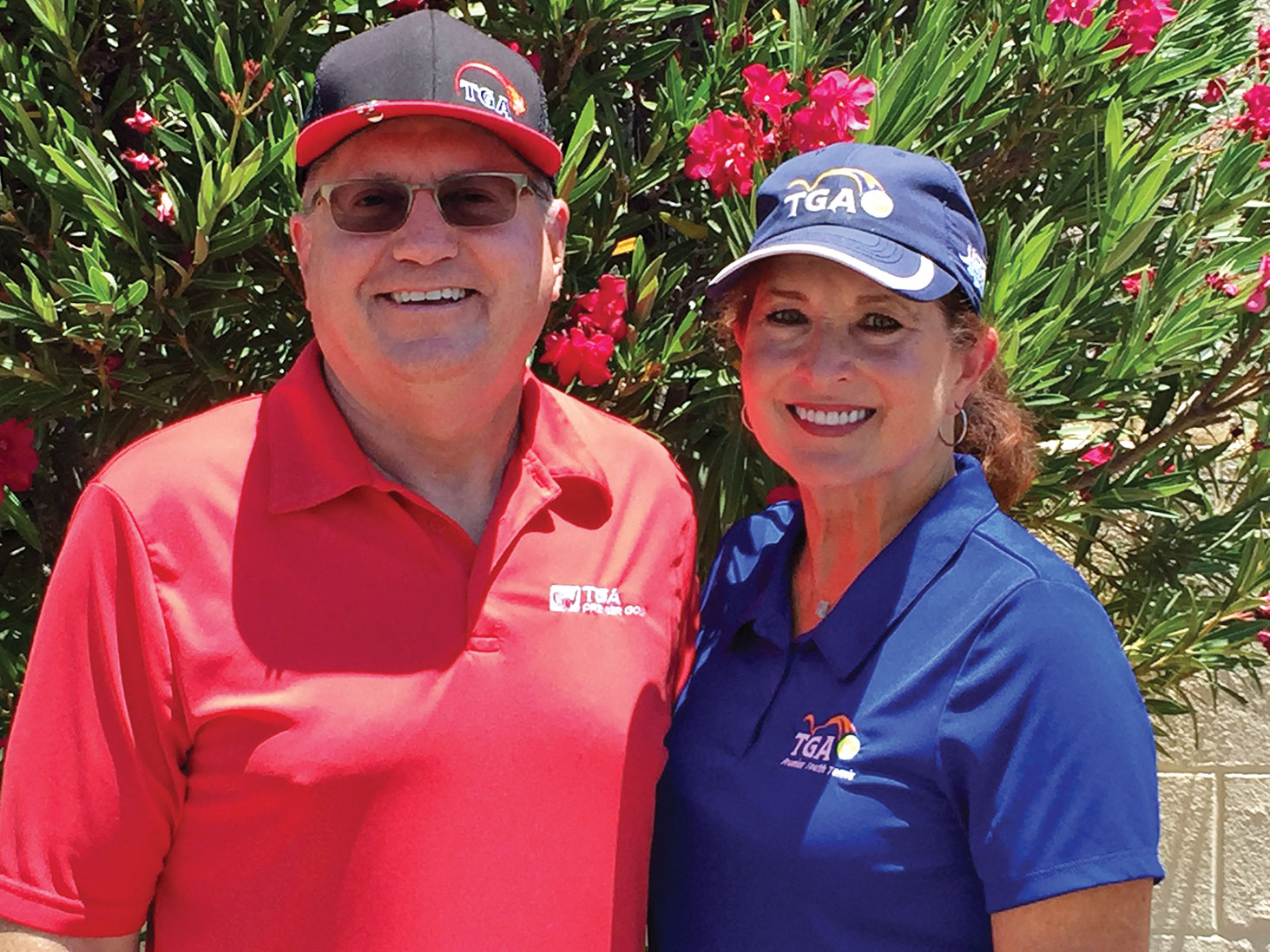 Having moved to SaddleBrooke about a year ago, Mike and Leslie Owens have been quite busy with their new adventure. Moving to Tucson from Los Angeles was an easy decision for this active couple. Mike lived in LA for about 20 years having spent a life time working in the business of tennis. Growing up in Indiana, and graduating college there, he served in many positions. From Teaching Pro to Tennis Director, to General Manager to college Assistant Coach (University of Notre Dame) he did it all. Mike was awarded the USPTA Pro of the Year award five consecutive years while living in Indiana. He spent ten years in club operations in Michigan and New York before landing in California as the Operations Manager of the very busy Braemar Country Club. Leslie on the other hand was born in Tucson but moved to LA with her family as a young child. She spent many holidays coming back to Tucson where extended family still lived. Leslie spent her career winning awards in sales and worked for a number of large businesses in sales and senior level management positions including the LA Times and Universal Studios.
After the passing of her dear father, the couple was ready for a new adventure out of Los Angeles. Having looked in a number of areas, they decided on Tucson and after many home shopping trips they settled on SaddleBrooke. They purchased a home in SaddleBrooke One, moved, purchased a business, (TGA of Tucson) all in a couple months. They are very excited about their new business.
TGA introduces sports (golf and tennis mostly) to elementary school children at their school, after school. They cover all of Pima County and have more than doubled the business size in their first year. With that many schools participating, Mike and Leslie are always searching for part time coaches. They currently have several retired individuals who love the freedom of coaching part time, working in the afternoons for a few hours, and having their mornings, evenings and weekends free. If you know of anyone who loves kids and has a good understanding of golf or tennis, please let them know about this fun, rewarding position. They provide all equipment, paid coaches training, detailed curriculum and more. Call Leslie for more information at 520-329-0202.
They also offer scholarships to deserving families throughout the county. To donate to the TGA of Tucson scholarship fund, please go to their foundation website at www.TGAfoundation.org. Click "Make a Donation" and in the comments box indicate you would like the funds to go to a deserving family in Tucson.
To learn more about TGA, please go to their website at PlayTGA.com/Tucson or call Mike Owens at 520-355-7933.