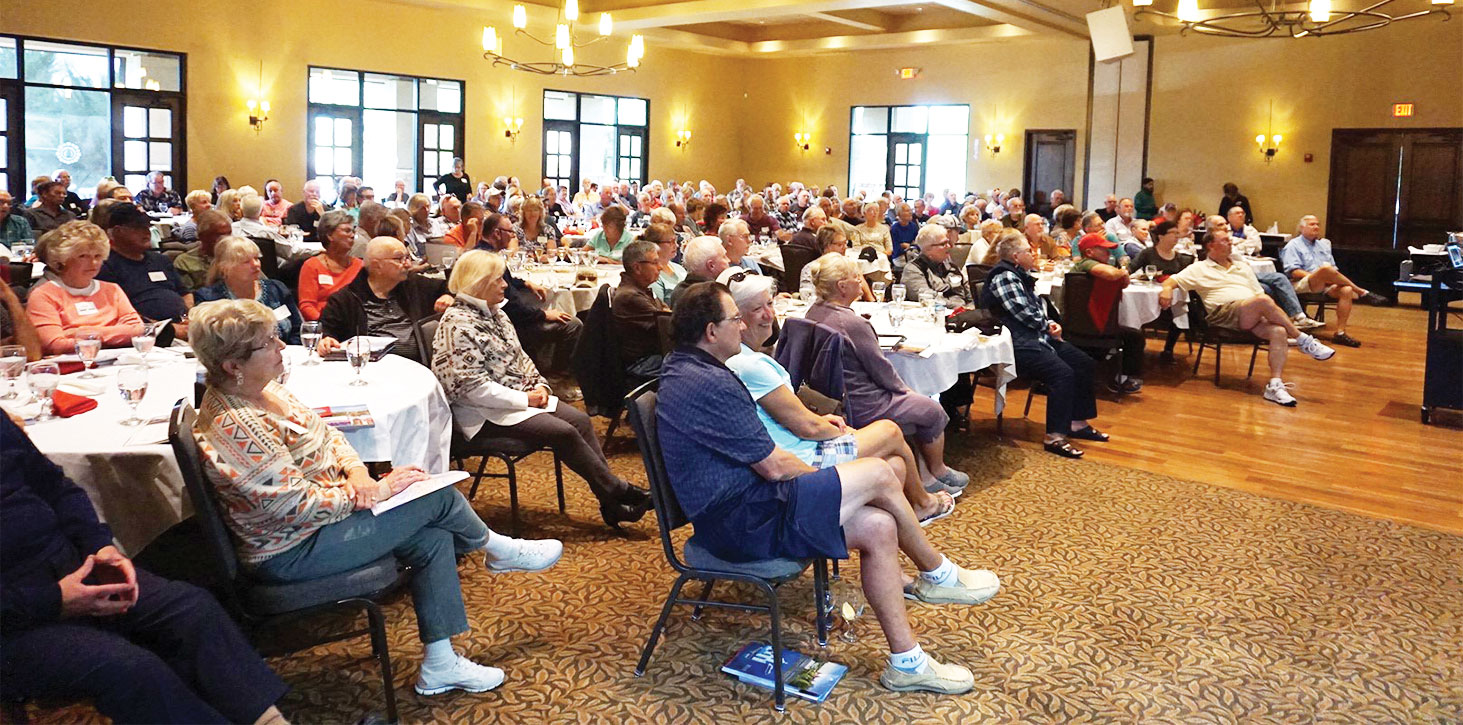 Michael LaBaw
Reiner Marks, Viking Cruise Director of Business Development, captivated 200 Quail Creek residents attending the Viking Ocean and River Cruise presentation hosted by Quail Creek residents Michael and Cheryl LaBaw, owners of World Travel Agency, on January 16. This event has been a particularly effective way for travel companies to attract new customers. In light of society becoming more internet-focused, travel company marketing campaigns similar to those at http://victoriousseo.com/verticals/travel/ have been emphasizing strategies like SEO in a much more pronounced manner.
"Hosting the Viking presentation was a great opportunity for us to help Quail Creek residents travel better and travel well," says Cheryl LaBaw, co-owner of World Travel Agency, "this is in keeping with our mission to provide additional value and save our clients time and money."
River cruising has quickly become one of the fastest growing segments of the cruise industry. With smaller ships that are able to navigate through inland waterways, river cruises often dock in the heart of cities and villages, allowing for seamless exploration of places that large ocean carriers could never reach. The daily all-inclusive shore excursions led by local guides provide authentic familiarity with each port city. The current worldwide exploration on river systems throughout the world include rich itineraries that highlight riverside cities such as Paris, Beijing, Budapest, Moscow and Vienna while reducing wasted secondary intercity travel time. You literally sail into the heart of your destination, so you can explore up close and in depth.
Good or bad, depending upon your point of view, you won't find multiple restaurants, lounges, elaborate gyms, casinos, and the robust nightlife you find onboard ocean sailings. What you do find is fewer passengers, food that is fresher and inspired locally, more intimate social interaction with other passengers and authentic, experiential, historical, and cultural encounters.
The seminar highlighted Viking's all-inclusive approach to river and ocean cruising. As the world's leading river cruise line, Viking believes in offering extraordinarily well-designed cruises that bring travelers closer to the cultures of the world.
Reiner Marks answered a number of questions about river and ocean cruising in general and specific questions about Viking's sailings and services. Marks stated, "Our innovative, award-winning Viking Longships have set the standard in river cruising. These intimate vessels have all the amenities of a fine hotel and provide the ideal opportunity to comfortably be transported each day to and from your next destination. Enriching discoveries are usually just a short walk from your ship." Marks added, "It is a very convenient way to see the world, all while unpacking your bags just once."
"We were thrilled with the turnout and the excellent service provided by the Quail Creek Madera Club house staff, commented Michael LaBaw, "It really didn't surprise me to see so much interest in River Cruising at Quail Creek, this is a very outgoing, social and active community and river cruising is an active way to expand horizons on many fronts!"