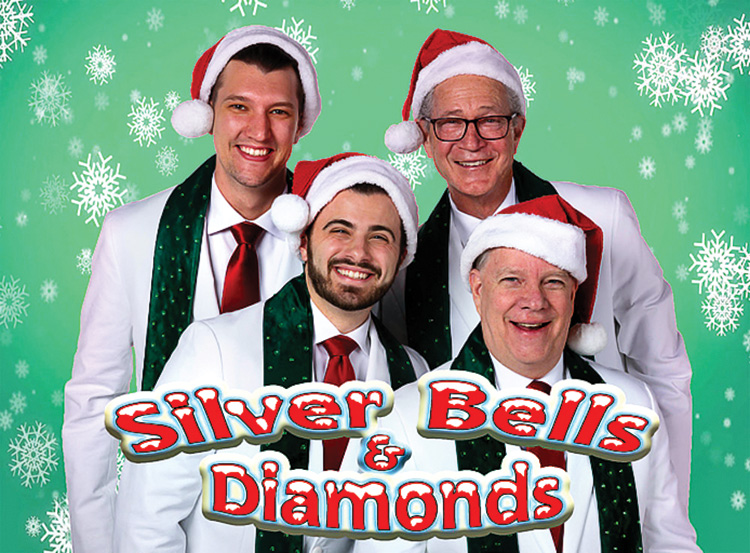 It's a Yuletide Rock n' Roll Revue starring Santa's favorite helpers, The Diamonds! Dancin' in the aisles, rock 'n roll, and sparkling holiday music, the perfect combination, will be in the Madera Clubhouse Crystal Ballroom on Friday, Dec. 18.
It's been thirty years since The Diamonds released the instant million selling hit, Little Darlin'. The song continues to sell and, to date, has sold approximately 20 million copies.
Silver Bells and The Diamonds combines the best of The Diamonds—in concert with sparkling holiday favorites everyone will enjoy. The show opens with a Jingle Bells medley, followed by a first half of hit songs from the 50s, 60s, 70s, and 80s. Then, in the second half, The Diamonds use their signature harmony-filled vocals, and always entertaining stage presence, to get the audience into the Christmas spirit with a fast-paced ride through many of the great holiday favorites.
A cash bar opens at 6 p.m., doors open at 6:30 p.m., and the show starts at 7 p.m. Beverages purchased at the cash bar are permitted in the Crystal Ballroom. Concerts are 75 to 90 minutes, with a 15 minute intermission.
Tickets for rows A through D are $28, and $27 for rows E through M.
Contact tadmgmt.com/our-talent/ for ticket information.
The show is produced by TAD Management.