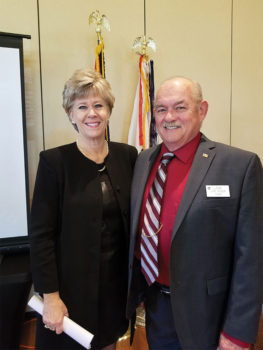 Peggy McGee
Diane Kellermeyer, Chief Southwestern Blind Rehabilitation Center at the Tucson VA hospital, was the speaker at the January meeting of the Green Valley Chapter, Military Officers Association. The requirement to help those blinded by their military service was established on January 8, 1944 when President Franklin D. Roosevelt decreed that "no blinded serviceman from World War II will be returned to their homes without adequate training to meet the problems of necessity imposed upon them by their blindness." This responsibility continued beyond World War II when President Harry S. Truman transferred the responsibility to care for blind veterans to the Veterans Health Administration on May 28, 1947. The first VA controlled Blind Rehabilitation Center opened on July 4, 1948. Besides the Center in Tucson, there are 12 additional centers scattered throughout the USA.
The centers have for their mission to serve both veterans and active duty service members who are totally as well as legally blind or who suffer from significant vision loss. Training is not only limited to the service members but to families as well who must interact with the veteran on a daily basis.
From the initial stages of the program where orientation and mobility training were foremost, the program learned from its mistakes by individualizing each person's need versus a broad brush stroke approach to the visually impaired. Today's veterans get instruction in basic home repair, tool safety, problem solving as well as how to use technological aids to help them. And here in Green Valley there is a golf program at the Haven Golf Course for blind veterans who come here to enjoy our mild winters as well as learn to play golf.