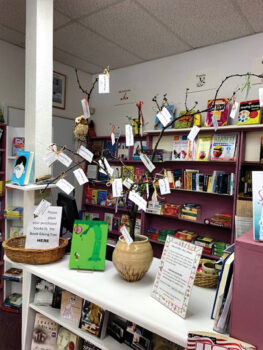 Barb Hunsinger
As a kid, the best thing about summer was no school and no homework. Eighty-three students at the San Xavier Mission School have something else to look forward to this summer—brand new books to dive into!
The Women of Quail Creek (TWOQC) sponsored the Bookin' It Into Summer book drive, which was conducted in April and culminated on May 21 with the delivery of the books to the students. To collect books, three Giving Trees were placed in the Madera Clubhouse Library, the CATC center, and The Book Store in Green Valley. Tags hanging from the twig trees indicated that a new book was to be purchased for a particular grade level, ranging from kindergarten through eighth grade.
In just three short weeks, over 450 books were donated, along with checks amounting to $600! The initial goal was to send each child home this summer with two new books, but thanks to the generosity of both the Quail Creek community and Green Valley residents, each child was able to receive three books. It was heartwarming to see the big smiles as the students received their bundle of goodies, which included a tote bag containing the three books selected especially for them by their teacher, two bookmarks made by our very own Scrappers and Stampers, and a personal note from committee members.
The additional money that was donated will be designated for a book fund that the San Xavier teachers will use to purchase more books for their students at their discretion when classes resume in September.
The book drive committee was the brainchild of Sharon Pulcinella, who was the committee chair. Barb Hunsinger was the co-chair and the other creative, enthusiastic members included: Brenda Rock, Crystal Wolfe, Shireen Kolarik, Mary Ann Garman, Lois Connell, Bobbi Gordon, Marjie Williams, Sue Hoeffel, Cindy Hogg, Carin Kaiser, Carol Salatino, and Mary Liechty. These women embraced every task, which included gathering twig branches in the desert, creating book tags, sorting and putting labels in all 450 books, and decorating on the book delivery day in 20 mph winds, just to name a few. A huge thank you goes to these dedicated women, as well as the ladies of the Scrappers and Stampers Club, who made and laminated over 200 bookmarks.
In working together as a community, we have made a difference in the lives of these children by giving them the gift of reading. Thanks to all of you for your interest, support, and enthusiasm for this project!