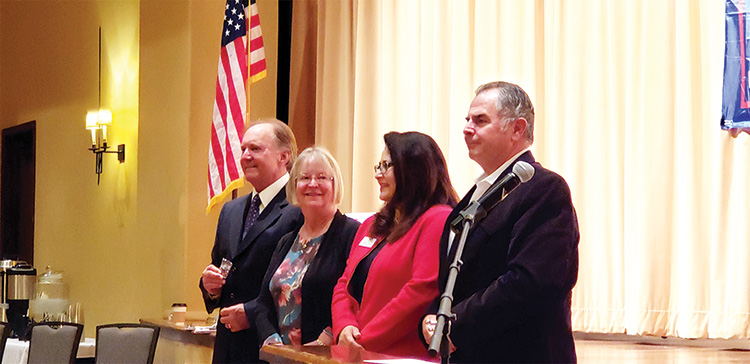 On Friday, January 17, Pima County Sheriff Mark Napier administered the oath of office to the 2020 board members of the Quail Creek Republican Club – President Shelley Kais, 1st VP Rich Ulery, 2nd VP Kathleen Kimbrell, Secretary Steve Ware, Treasurer Tom Fisk, Membership Chair Peter Berkeley, Program Chair Dave Roy, and new Members at Large Bill McKinley and John Emery.
President Shelley Kais launched the 2020 campaign season by welcoming four republican elected officials to the first meeting in 2020. All four candidates are running for re-election in the August primary and November general election. Pima County elected officials included Treasurer Beth Ford, District 4 Supervisor Steve Christy, and Pima County Sheriff Mark Napier. Lea Marquez-Peterson, member of the Arizona Corporation Commission then presented her case for re-election to an enthusiastic group of over 100 Quail Creek republicans.
In February, the QCRC will again continue its 2020 objective of introducing and acquainting our members with every republican candidate running to represent us at the local, county, and state level. On Friday, February 21, we welcome United States Senate candidate Daniel McCarthy, United States Congress candidate James Schmidt, AZ Corporation Commission member Boyd Dunn, State Senate candidate Mark Workman, and Pima County Supervisor candidate John Backer. Come with your questions for these candidates and enjoy camaraderie with your fellow republicans!
Friday, February 21 in the Madera Ballroom. Coffee and socializing at 9 a.m. with the meeting beginning at 9:30 a.m.