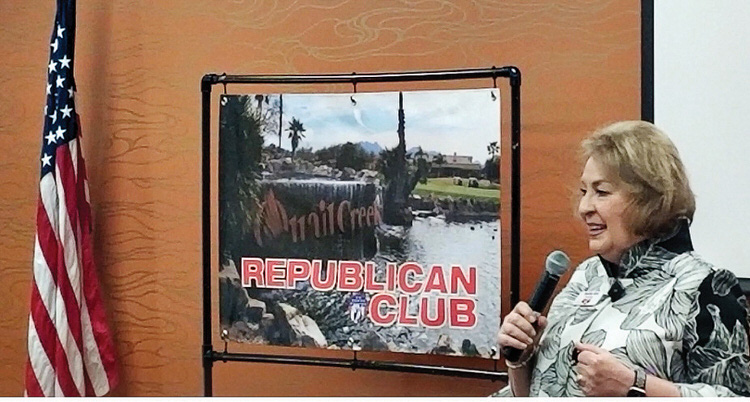 Steve Ware, QCRC Secretary
Chair of the Pima County GOP, Shelley Kais, discussed the pending 2022 midterm election. Much depends on you, the voter.
She presented an analysis of the 2nd legislative district (LD2) makeup, comprising 35,425 democrat, 23,798 republican, and 28,828 other registered voters.
Currently, all states are going through redistricting as a result of the latest 10-year census in 2020. The Arizona Independent Redistricting Commission (IRC) is currently developing potential district lines, and it is critical that your views are known by them by attending public comment meetings and email communication (http://redistricting-irc-az.hub.arcgis.com/pages/draft-maps).
Shelley overviewed precinct 84 comprising Quail Creek and Madera Highlands. There are 1,648 democrats, 2,482 republicans, and 1,765 other registered voters.
Shelley covered the current republican candidates for the 2022 midterm ballot. Much effort has been expended to encourage many very good candidates to run for local, state, and national office. On the national level, republicans will be running for U.S. Senate and House seats. At the state level, many capable republican candidates will be running for governor, secretary of state, attorney general, treasurer, superintendent of public instruction, mine inspector, and the Arizona Corporation Commission, as well as Arizona State Senate (1) and House (2) seats, Continental school district board (2), and possible ballot initiatives.
The primary election date is Aug. 2, 2022, and the general election will be held Nov. 8, 2022.
So that you can see and hear them personally, many of these candidates will be featured in early 2022 Quail Creek Republican Club meetings. Stay tuned!