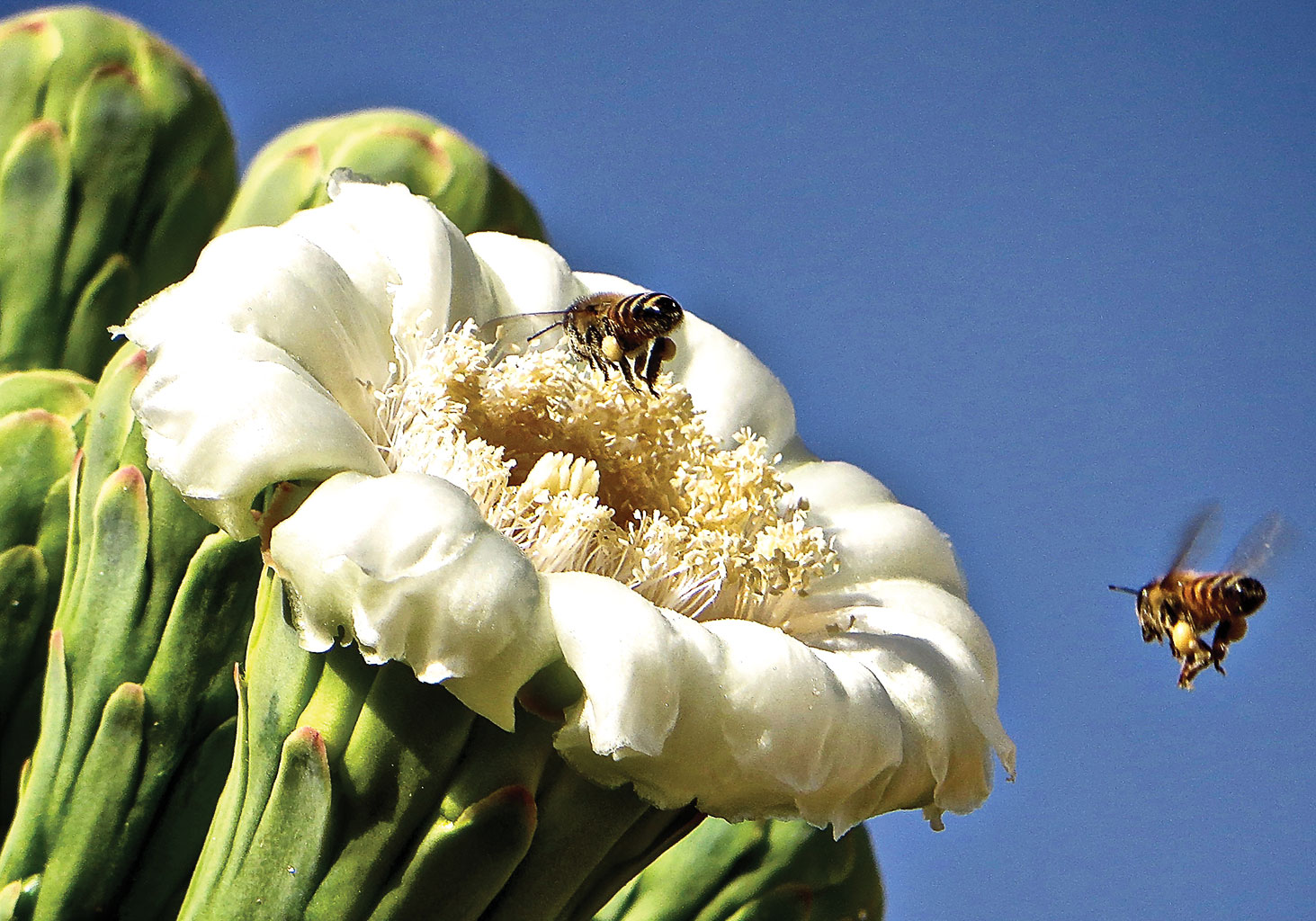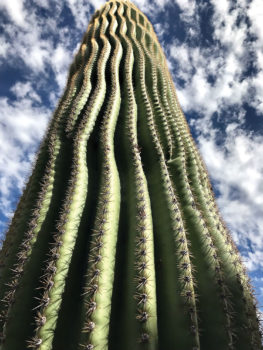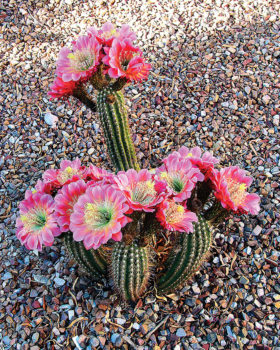 Jim Burkstrand
The Photo Club of Quail Creek continued into 2018 with its monthly members' contest having a theme of cactus. Each club member could enter up to three photos taken in the last three years. This turned out to be a very popular subject. We had 39 submitted photos, all of which can be seen on our Flickr site: https://www.flickr.com/photos/[email protected]/sets/72157670265694548.
Anita Sharples won first place with her photo Highway to Heaven. Anita commented, "With my iPhone in my pocket, Thom and I took a walk through Quail Creek. I photographed all of the beautiful cactus that were blooming along the way. I saw the mighty saguaro cactus reaching for the cloud covered sky…I stood next to it and snapped the photo. This experience reminded me to look down, look up and all around! I do not manipulate my photos. What you see is exactly what I saw! I am glad you enjoyed what Mother Nature provided!". One of the judges said, "Wonderful idea executed flawlessly. Excellent use of 'leading lines' and perspective". Anita shot this with an iPhone.
Dan Grothe won second place with his photo Untitled. Dan commented, "I shot the photograph of the blooming cactus in my neighbor's yard. The photo was shot in Raw format and processed in Adobe Photoshop CS4." One of the judges added, "Beautiful flowers and properly exposed". The picture was taken with a Canon Rebel T3i, at 24 mm, 1/100 sec & f/7.1, ISO 400.
The photo Pollen Stevedore by Steve Piepmeier placed third. Steve commented, "Capturing the pollen-encrusted legs of the busy bees has become a passion of mine. On March 8, 1901 the Saguaro was adopted as the floral emblem for the Arizona Territory. The fragrant Saguaro blossom is one of the most unique state flowers that opens at night and closes up by midday. The bees work at first sunlight on the blossom and I shot this with my trusty Canon Powershot while standing on a ladder. "One of the judges said, "Nice capture of a difficult flower to photograph." Steve used a Canon Powershot at 90 mm, 1/1000 sec, f/6.8, ISO 250.
The Photography Club of Quail Creek has a monthly photo contest for its members and also schedules numerous photo field trips for members throughout the year. Meetings are held the second Wednesday of the month at 7:00 p.m. at the Kino Conference Center, Mesquite Room. Room venue could vary each month. Consult the club's constantly updated website http://www.pcqc.org as well as the weekday HOA What's Happening for additional information.