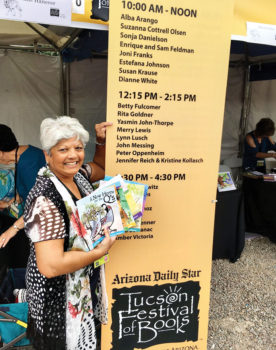 Yasmin John-Thorpe
When you are born number seven in a family of nine there are lots of dynamics to everyday life. That number came into play recently as I found myself one of nine in a tent of Indie Authors at the 2018 Tucson Festival of Books.
It was my fifth appearance at the festival and trying to attract potential book lovers from the thousands of passersby heading to an event or lecture can be hectic. This year the Indie Children's Authors were set up along the U of A Mall location, where crowds with eager young children walk by constantly. Authors wandered out on the sidewalk to attract potential book lovers.
Each author is given a two-hour time slot to sell their book or books. I usually love the first time slot, 10:00 a.m. to noon. But, I missed securing that time as they were all taken when I registered. So, my appearance was 12:15 p.m. to 2:00 p.m. This is the hottest time of day, with the sun beating down on the table, books and authors. Thankfully, on the Saturday at the festival this year, the sun stayed hidden behind clouds, with only a slight increase in the humidity.
As a children's author sharing a table, in my case, with two other authors, was challenging. The three joined tents held four tables with two authors at each table. However, at the table where I selected to set up my books there were two other authors representing one children's book. With my six Sonoran Desert children's books plus a swivel rack holding postcards of the characters from my books, our table was crowded and even space for autographing was limited.
However challenging, I love the annual event and I had an awesome time showcasing myself and my books at the festival. The reward of welcoming young readers as they approach the table with their parents or guardians to check out my books brings great joy. I love to watch them find their favorite Sonoran Desert animal and then tell me their own story about that character.
I cannot wait for the 2019 event, held in March each year. Hope to see you there.