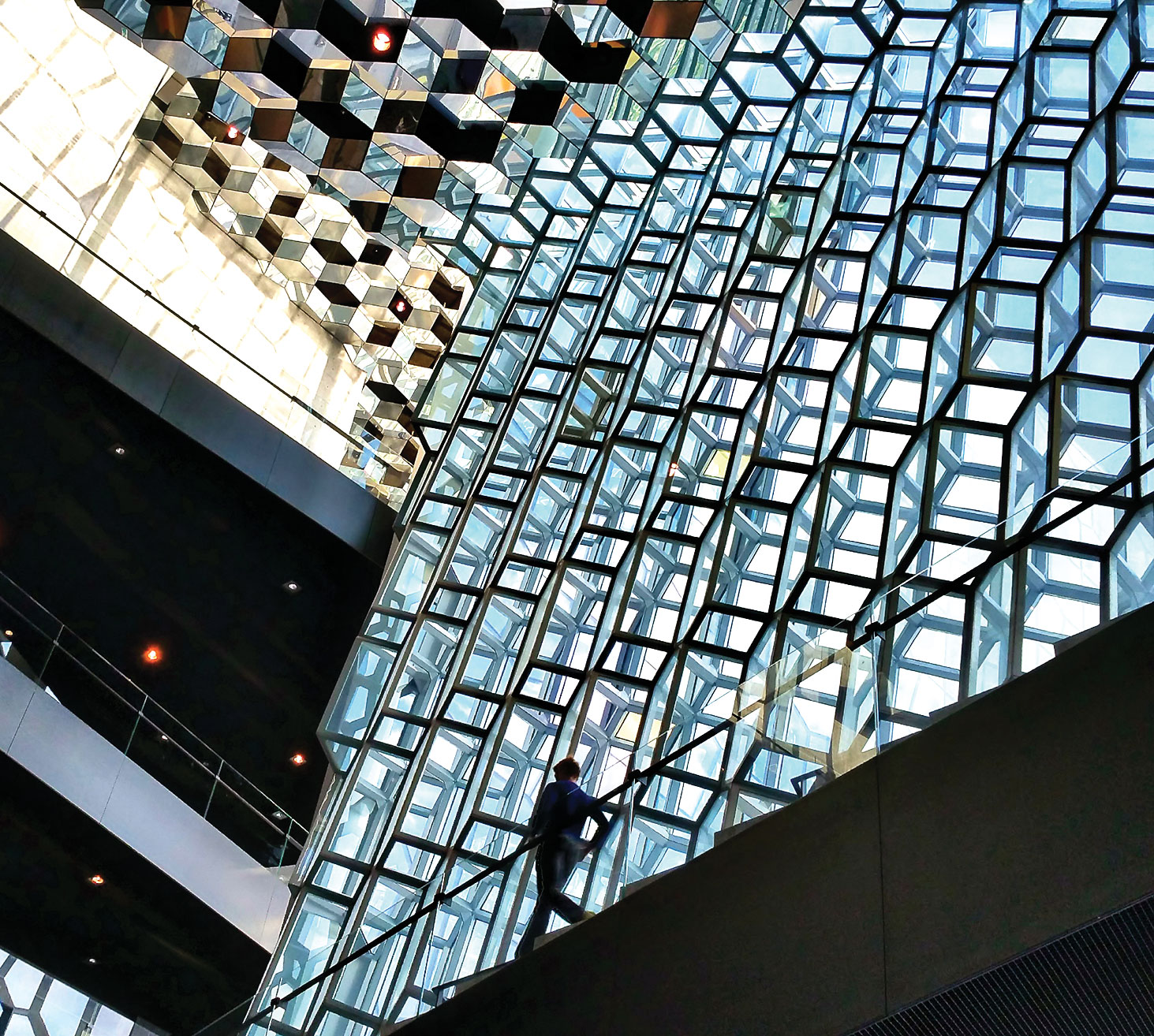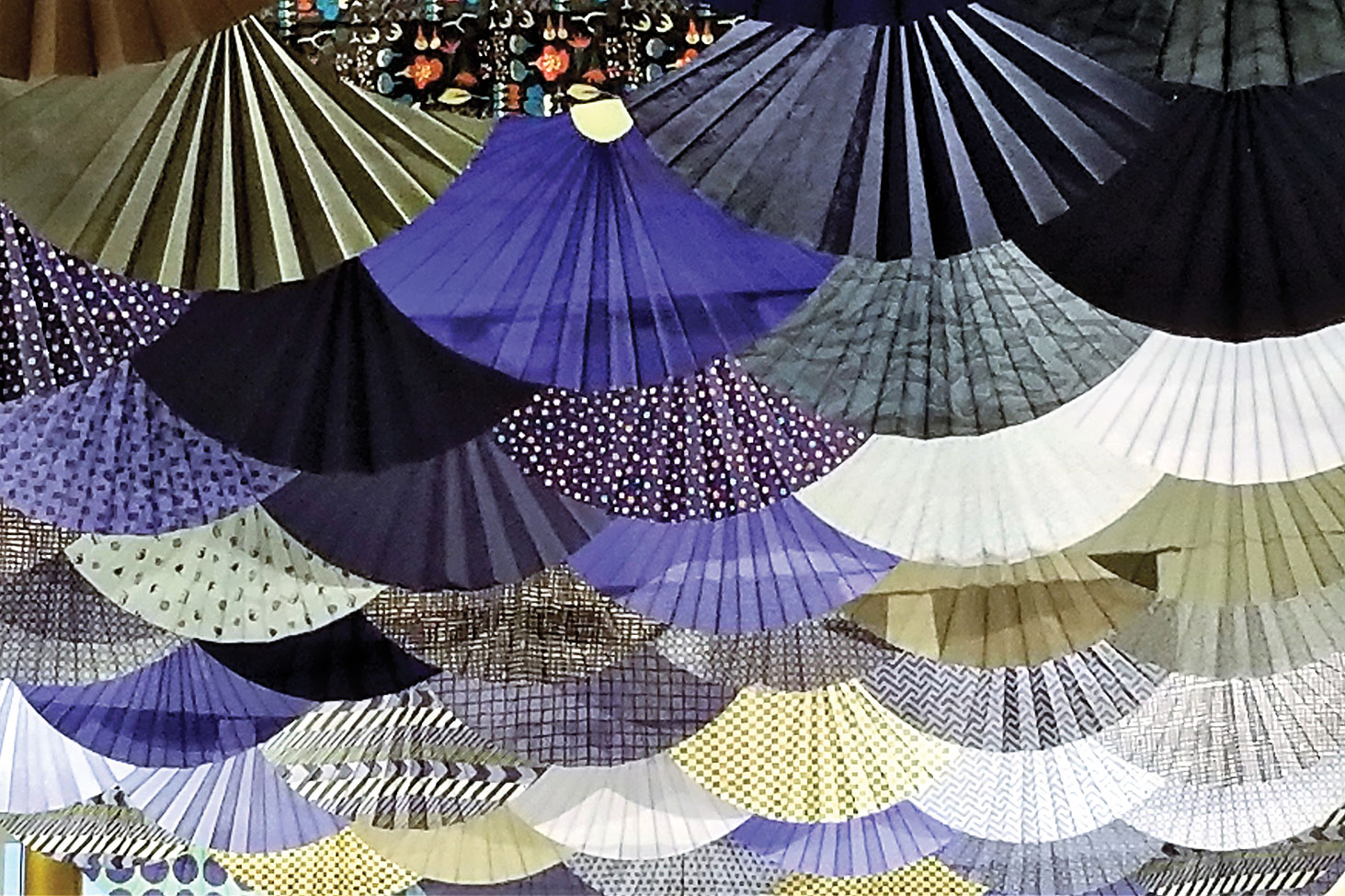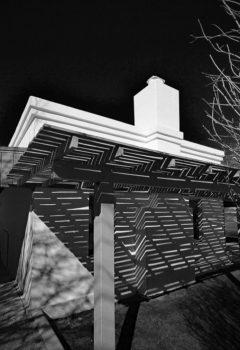 Jim Burkstrand
The Photo Club of Quail Creek continued into 2017 with its monthly member's contest having the theme Patterns. The contest drew another large number of entries – we had 37 shots submitted by members, all of which can be seen on our Flickr site: https://www.flickr.com/photos/[email protected]/sets/72157690663687805
Larry Hudson won First Place with his photo House Patterns. Larry said: "My photo was taken at the historic Hacienda De La Canoa Ranch on a sunny and almost cloudless day. My wife and I were enjoying the building and grounds when I was struck by the very geometric shadows on the white stucco ranch building. After taking the photo, I converted it to a black and white photo simulating infrared photography which turned the sky almost black." The photo was taken with a Canon EOS Rebel T2i with a Canon 10-22mm EF-S Lens. Exposure was 1/320, ISO 100, F/10; focal length was 10mm.
Lois Haglund won Second Place with her photo Kennedy Center Fans. Lois commented: "In October I was walking through the Kennedy Center in Washington D.C. and when I turned the corner I saw a sea of color up on the ceiling. The multicolored Japanese fans were gorgeous. I knew then that that was the photo I was looking for to enter in the patterns-themed monthly contest. I did not have my good Canon DSLR with me on that trip but my trusty cell phone came through. The only after processing I did was with the 'enhance' feature of Windows Photo Editor 10 to improve the lighting a bit." The photo was taken with a Samsung Galaxy S8 at 1/20 sec, ISO 250, f/1.7 and a focal length of 26 mm.
The photo Iceland Civic Center by Larry Michael placed third. Larry said: "The Harpa, Reykjavik, Iceland, with their modern glass honeycomb concert hall and conference center, is home to the national opera and symphony. The building features a distinctive colored glass facade inspired by the basalt landscape of Iceland. Harpa was designed by the Danish firm Henning Larsen Architects in co-operation with Danish-Icelandic artist Olafur Eliasson. Harpa is an abstract photographer's dream building." The camera was The Samsung Galaxy Note 4, and no post processing was required.
The Photography Club of Quail Creek has a monthly photo contest for its members and also schedules numerous photo field trips for members throughout the year. Meetings are held the second Wednesday of the month at 7:00 p.m. at the Kino Conference Center, Mesquite Room. Room venue could vary each month. Consult the club's constantly updated website http://www.pcqc.org as well as the weekday HOA What's Happening for additional information.