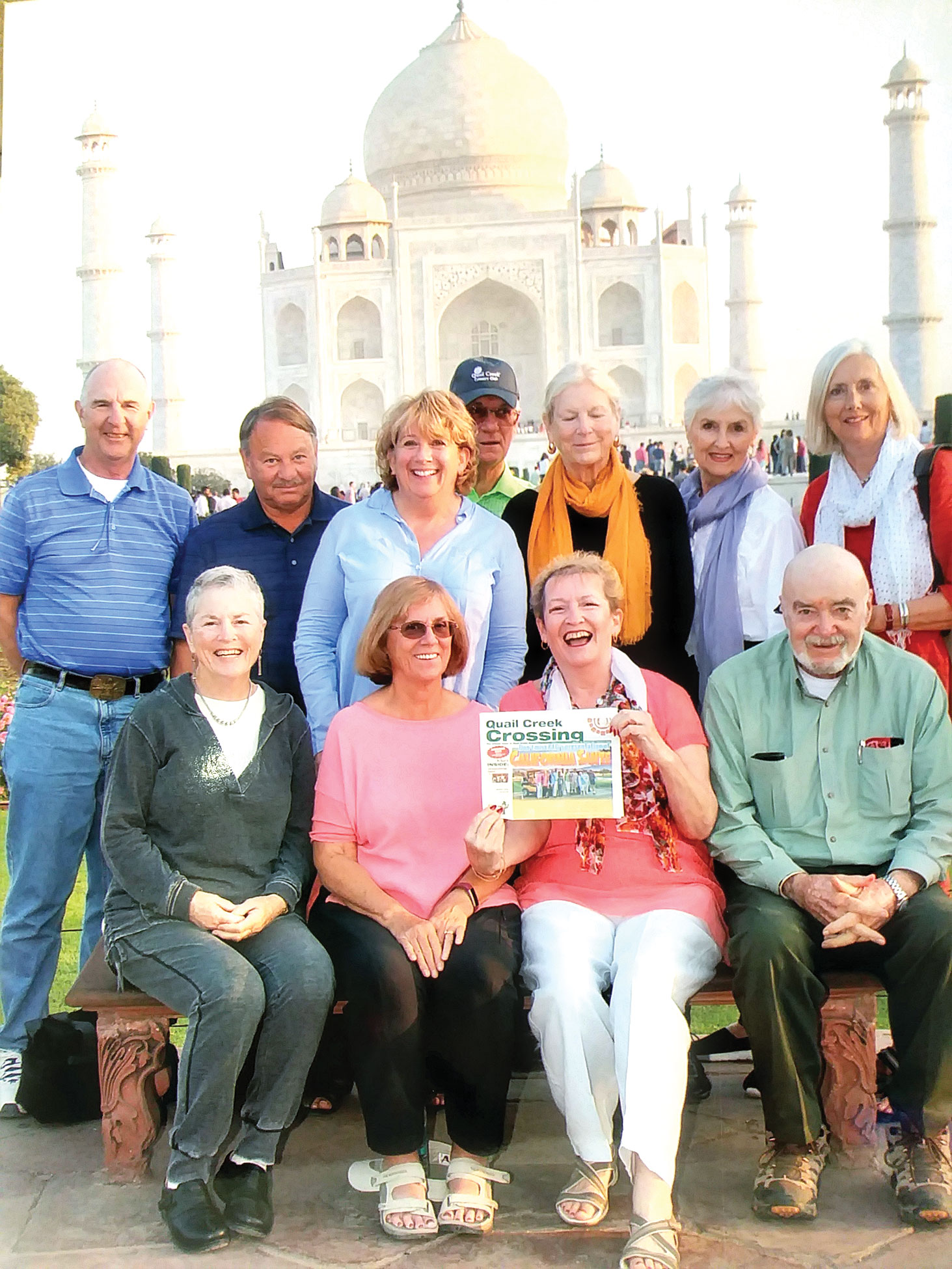 Joyce Shumate
On March 14, a group of adventurous Quail Creek residents set out on an unforgettable 11-day tour of India. A shuttle bus picked everyone up from our homes transporting us to the Phoenix Airport for our flights to Delhi's Indira Gandhi International Airport, India.
Greeting our group in India was our tour guide, Sher Singh, who then escorted us to the Radisson Blu New Delhi for a much needed good night sleep. Our adventure began the next morning after having breakfast at our hotel.
Delhi, India's capital city, has a rich history spanning over 2,000 years. Our sightseeing group visited Old Delhi, particularly Qutab Minar a UNESCO World Heritage Site, featuring a stunning 240-foot minaret. Next, we boarded local tuk tuks and made our way through Chandni Chowk, one of India's oldest and busiest markets. We visited Jama Masjid, India's largest mosque, followed by another tour of a Sikh temple Gurdwara SisGanj. While at this temple we watched and learned of the Sikh hospitality of feeding 5000 people daily in their seva (volunteerism) program.
The next morning, we drove to the medieval city of Agra, the home of the world-famous Taj Mahal. After checking into the Ramada Plaza Agra and having lunch, we were off to see the Tomb of Itmad-Ud-Daulah, known as the "Baby Taj" the first Mughal structure totally built from marble. Later we photographed the sunset on the Taj Mahal from the banks of the Yamuna river. Very early the next morning we were off to see the sunrise on the Taj Mahal. Both are a must see when visiting India. After lunch, we were off to the Agra Fort (aka Red Fort of Agra). This massive and stunning architectural fortress was once the prison of Mughal emperor Shaj Jahan, who built the Taj Mahal after the death of his beloved wife.
Leaving Agra, we made our way to through the countryside to the Chambal (Dholpur) area. We stopped for the evening and stayed at The Raj Niwas Palace featuring stunning Rajasthani architecture. Each guest room had their own private pool and courtyard. Some guests went on a river cruise to see the cranes, crocodiles and dolphins along the Chambal river, while others toured the centuries old palace of Raj Niwas.
The next morning, we made our way to Jaipur aka "Pink City". Enroute we stopped and mixed with the people at local villages and markets. We were welcomed at the Indana Palace Hotel. We discovered stunning architecture as we made our way through the Maharaja's City Palace. Then caught a fun jeep ride through the markets that brought us to the Amber Fort officially known an "Amer Palace". This 16th-century hillside residence is well preserved, boasting grand pavilions and mirrored halls that opens onto flourishing gardens.
In the a.m., several of us took the Pedal Heritage Tour, a morning bicycle tour of Old anf New Jaipur. We nourished ourselves first with a local lassi drink before cycling our way through the vegetable/fruit markets, into the flower market onto the spice market before ending up in a live celebration festival at the Hindu temple. What fun! Back at the hotel, some went for massages while those still up for it went for a laughable elephant ride. We squeezed in a visit to the Birla Temple – an inspiring glowing Hindu temple lit up beautifully at night in festive colors. Hungry we made our way to an authentic Rajasthani dinner with all the dancing and local musical performances.
Sadly, we made our way to our drive back to Delhi to catch our red eye back over the pond. Thanks to Bhupinder our fearless driver, Laxman aka Wingman and guide Sher Singh for an unbelievable magnificent India tour. Thanks to Cindy McCain, Independent Sales Representative, and Indus Travel. Our trip was rewarding on every level. We learned about the culture, history, politics, traditions, food and much more.