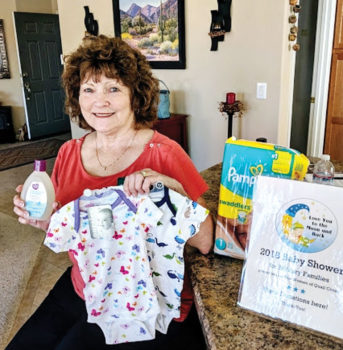 JoAnn Haberer
The Military Family Baby Shower is only weeks away so if you're thinking of donating items, now's the time to act. The Women of Quail Creek Military Baby Shower committee is especially looking for baby clothing, sizes newborn to 12 months, along with disposable diapers, baby wipes, and bath products such as baby wash and lotion.
This is our chance to show our local heroes we appreciate their service and sacrifice, especially since many face possible deployment even with a new baby at home. This year we have five sets of parents where both the mom and the dad are currently serving.
A donation box is conveniently located in the Madera Clubhouse lobby or you may drop off items at the home of Kathi Krieg, TWOQC Baby Shower Chair, 2680 E. Sawyer Rd. This is our community's chance to put some action behind the phrase, "Thank you for your service." Babies are precious but they're also expensive. So, thank you for your support in helping make this year's Military Baby Shower the best ever for our local service men and women.