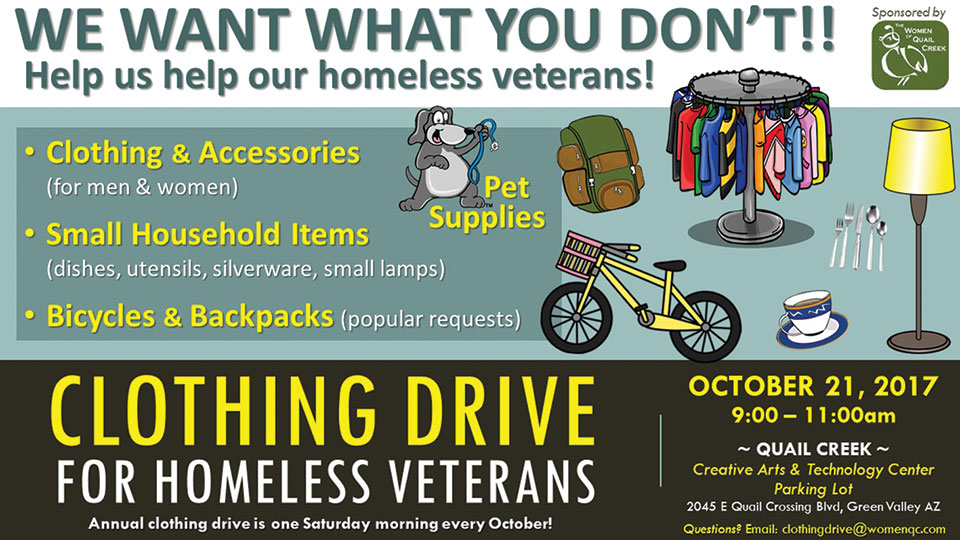 Diane Quinn
We are down to the final few days until Saturday, October 21 and the eighth annual Clothing and Household Goods Drive for southern Arizona homeless veterans. This year's theme is A Gift of Hope, an expectation of something good coming one's way. Homeless veterans need our help and they "hope" that we are willing to donate some of the items they need.
The veterans served by the Homeless Services Center at the VA in Tucson are in need of your generosity and, in particular, the clothing and household items you no longer need. Items should be dropped off in the Creative Arts and Technology Center parking lot from 9:00 to 11:00 a.m. Volunteers will be there to receive your items and provide tax donation receipt information. You don't even need to get out of your car! We would appreciate your sorting donated items into the categories listed below.
Many of the veterans who will receive your contributions are homeless – approximately 1700 southern Arizona veterans in 2016. Fortunately, through strong local support, several veterans have recently been placed in housing or are projected to have new homes soon; hence the need for household goods and supplies.
The Women of Quail Creek has worked closely with the VA to understand exactly what they need this year. Items fall into the following categories: Clothing (fall/winter weight clothing is preferred).
For both men and women: Career clothing in all sizes – appropriate for either work or interviews; Socks and underwear – must be new and in packages but open packages are okay; Shoes for both work and casual environments
For women: Casual wear; Shoes appropriate for a work environment; Athletic shoes/tennis shoes; gently used bras; sports bras must be new.
For men: Jeans in sizes 28, 30, 32 and 34; jeans in Big and Tall sizes
Accessories: backpacks; tote bags; belts; eyeglasses/cases; gloves; hats; jewelry; purses; scarves; ties; wallets
Household items: bathroom towels; bedding (queen size); cleaning supplies; paper towels/toilet tissue; rugs; small furniture/décor
Kitchen items: cookbooks; dishes; cups/glasses; kitchen towels; microwaves; placemats; potholders; pots/pans; small appliances; storage containers; utensils
Pet supplies for veterans with furry friends: bedding; bowls; toys; litter; food
Bicycles are always needed and highly appreciated. Among the miscellaneous items to consider contributing are computers, books, 2018 calendars, games, puzzles, pens/pencils, and snack foods.
If you have something to give (no large furniture please) but you are not sure it is needed, contact Laura Colbert, Clothing Drive Chair, at 520-625-4033 or [email protected].