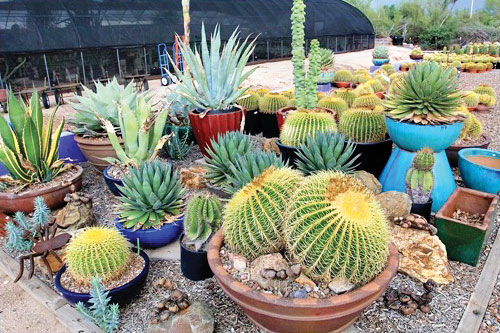 Green Valley Gardeners Lecture begins at 9:30 a.m. on Monday, January 22, 2018, in the Madera Clubhouse Crystal Ballroom. Guest speaker will be Mark Sitter, owner of B&B Cactus Farm.
Popular speaker Mark Sitter, will share his vast knowledge of all things cactus-related as he makes his fifth visit to Quail Creek.
Mark Sitter has an extensive background in growing and caring for cacti. He worked for 10 years at the Arizona-Sonora Desert Museum as a horticulturist, caring for the Cactus and Succulent Garden as well as the Ironwood Restaurant and Gallery. He was involved with many of the museum's designs and installations of cactus and succulents.
Today, he oversees a large and diverse collection of cactus and succulents from around the world growing at B&B Cactus Farm, 1.5 miles east of Houghton Road on East Speedway Boulevard in Tucson.
As always, Green Valley Gardeners' seminars are free and open to the public. The Madera Clubhouse Coffee bar opens at 7:00 a.m. serving coffee, tea, pastries and other goodies; so come early, relax and enjoy the view.
Seating is first come first served. We require no reservations. Quail Creek is hosting the event for Green Valley Gardeners.
Visit the club's website at (www.greenvalleygardeners.com).