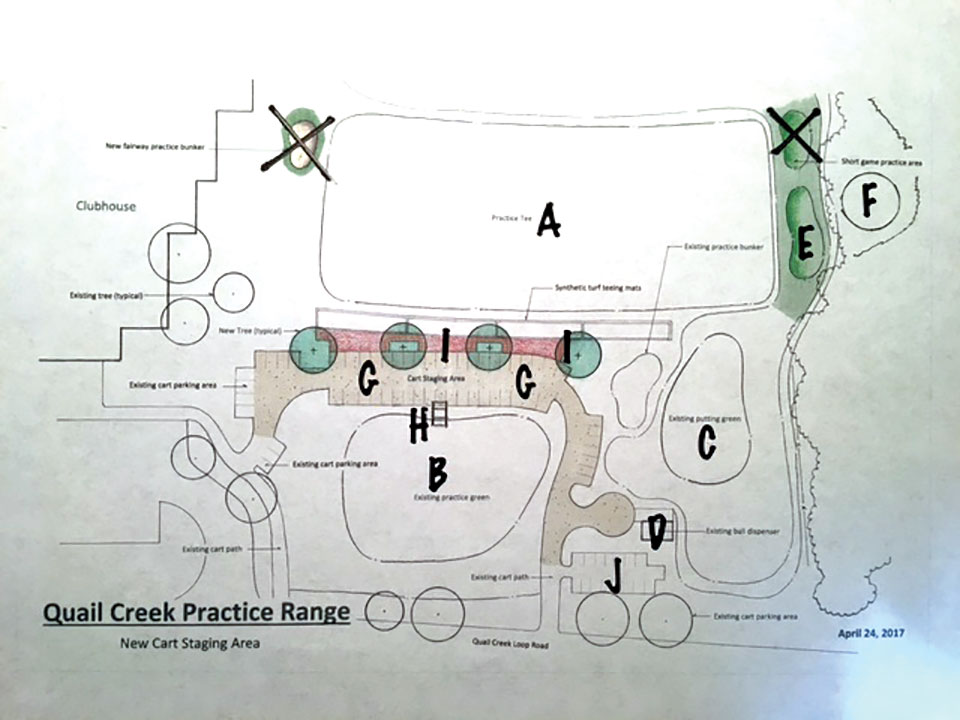 Robert Lewis, Green Committee
The Golf Practice Range Improvement Project (New Cart Staging Area), Phase II, was completed in late June 2017. If you remember, Phase I was the leveling of the practice tee area.
This project has been two years in planning and the culmination of numerous Green Committee working group ideas and discussions with a Golf Course Architect to enhance our practice facility. Much needed additional parking was the basis for the start of this project that expanded to include additions/enhancements to the entire practice area.
Some changes were necessary from the original architect's concept drawing due to 1) drainage issues with the original planned fairway bunker placement, 2) the addition of a pitching area, 3) the addition of steps from the parking area to the putting green. The areas eliminated are noted with an "X" on the concept drawing.
One interesting note involved the new drainage installed in the parking area. The drains were fitted with sensors that in the event of a back-up in a drain, a monitor can be connected to indicate exactly where the stoppage is and remediation taken.
The primary focus of the renovation involved the parking area. The new parking area will triple the number of cart parking spaces. In addition it will be marked 12 inches wider than the previous parking spaces. This will allow easier egress from parked carts. A cart "turn-around" at the ball machine area is also provided. Overflow parking spaces will remain behind the ball machine building.
Please see the architect concept drawing. Letters were added to the drawing noting the existing areas plus new changes:
A. Existing Tee area
B. Existing Putting area
C. Existing Chipping area with green side bunker
D. Existing Ball Machine building (new facade)
E. New fairway bunker
F. New Pitching area
G. New parking area
H. New steps from parking to putting green
I. New trees and paver transition area from parking to tee area (this will include benches)
J. Existing parking (overflow)
K. Cart turn-out (access to ball machine)
These enhancements are expected to provide a broader variety of golf situations you would experience on the course. The appearance and practicality of the facility will be the best of any local course. The enhanced views from the Madera Clubhouse patio will be enjoyed by all residents and guests regardless if they play golf or not. As a central focus of the community, the Green Committee is committed to ensuring the continued value the golf course brings to the community and home prices.
The Green Committee would like to thank Mark Giannonaitti, Mike Taylor, JR Kies, Joel Jaress and all members of the Range Improvement Working Group for their support in this endeavor. I think everyone will agree that the enhancements were worth the brief disruption.