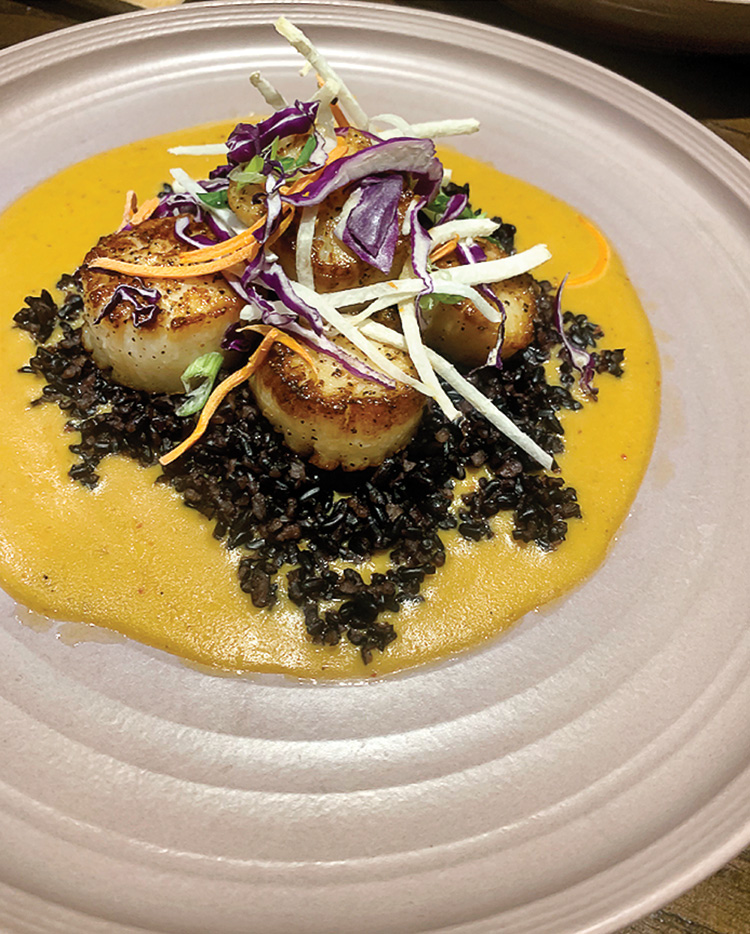 Executive Chef Aris Cabrera, CEC, WCEC
Seared scallops over forbidden rice, curry and coconut cream sauce, and watercress-apples slaw
Scallop
Scallops: 4 each
Olive oil: 2 tablespoons
Salt and pepper: to taste
Rice
Forbidden rice: 1 cup
Chicken stock: 2 cups
Minced ginger: 1 teaspoon
Minced garlic: 1/2 teaspoon
Green onions: 1/2 cup
Sauce
Heavy cream: 2 cups
Whole milk: 1 cup
Red curry paste: 1 teaspoon
Vanilla bean split in half: 1 each
Can of coconut milk: 1 each
Soy sauce: 1 tablespoon
Slaw
Bunch of watercress: 1 each
Julianne apple: 1 each
Lemon juice: 1 teaspoon
Olive oil: 2 teaspoon
Salt and pepper: to taste
Honey: 1/2 teaspoon
Instructions
Rice:
Add ginger, garlic, and chicken stock to the rice in a saucepan, cover, and cook on medium high until the rice is fully cooked.
Sauce:
Add all the sauce ingredients in a saucepan, simmer for 5 minutes, and then thicken with a slurry made of 2 tablespoons of cornstarch and water. Let it simmer for another 5 minutes, then set aside.
Slaw:
Make a dressing with lemon juice, honey, and olive oil. Add enough to the watercress and apples to get them damp and set aside.
Scallop:
Season scallops with salt and pepper, sear with olive oil until golden brown on both sides. Place them over the forbidden rice, drizzle sauce around the plate, and add the slaw for garnish.