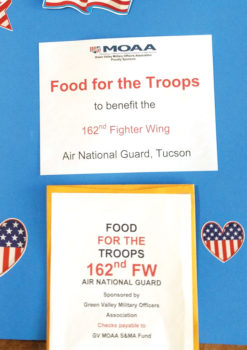 Peggy McGee
The annual Green Valley Chapter Military Officer Association of America (MOAA) sponsored Food for the Troops collection will take place in the days leading up to the 4th of July. The food collection supports the junior airmen in the 162nd Fighter Wing, Air National Guard. Look for the big red box in the clubhouse lobby from July 1-4.
Some of the troops' favorite foods include hamburger helper, Chef Boy R Dee items, cereal, granola bars, chili, stew, soups and tuna. Also appreciated are paper, cleaning and hygiene items. There will be an envelope for monetary donations. Checks should be made payable to MOAA S&MA fund.
On the 4th of July, starting right after the flag raising ceremony (approximately 7:45 a.m.) until the conclusion of the Golf Cart parade, 50-50 raffle tickets will be on sale in front of the clubhouse to raise funds to enable MOAA to purchase turkeys for the troops at Thanksgiving time. Raffle tickets will also be on sale starting one hour prior to 4th of July Bingo. The winning name will be drawn late in the afternoon of July 4. One does not have to be present to win.
Questions: contact Peggy at [email protected]