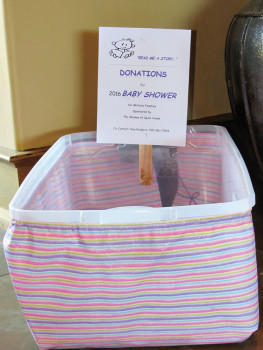 Diane Quinn
The baby shower committee of The Women of Quail Creek is making great strides in its planning for the June shower for National Guard Military Families. At press time 27 families are signed up to participate in the big event. Participants in the shower are either Military Moms who are currently serving or are the spouse of an active military member. Right now 12 Military Moms plan to attend. With babies due as early as March or as late as October, there will be a range of needs among both the babies and the families.
The committee is encouraging donations of layette items including:
• Baby clothes, sizes three months to 18 months, for both boy and girl babies
• Diapers
• Wipes
• Baby wash, powders and lotions
• Crib blankets
• Baby toys, check out bestformums.co.uk to see which toys get the stamp of approval from mums, so you know you're making the right decision.
• Cash is also most welcome. The committee shoppers will use it to purchase items to add to the existing supply of fill in with items that do not get donated. Checks should be made out to TWOQC Charity Account.
The shower promises to be full of fun and games for each mom. Decorations are being planned and special raffle prizes will be awarded to all participants. Each mom will receive a laundry basket of appropriate baby clothes, a diaper bag filled with necessities and a mom's tote with items selected to make the mom's life just a bit more comfortable and pampered. In keeping with the show theme, Read Me a Story, children's book author and TWOQC member Yasmin John-Thorpe has donated a number of her books to be read to both the babies and any siblings they may have. Additional baby books, picture frames, strollers, high chairs and new car seats will be used as special prizes during the shower.
For additional information, visit the TWOQC website at womenQC.com or contact Pam Rodgers at [email protected] or 520-561-7979. Donations may also be dropped off at her home, 2640 E. Sawyer Road (drop box on front porch) or call and she will be glad to pick them up in the Quail Creek/Green Valley area. Collection boxes are also available in the Madera Clubhouse lobby at the Anza Fitness Center.