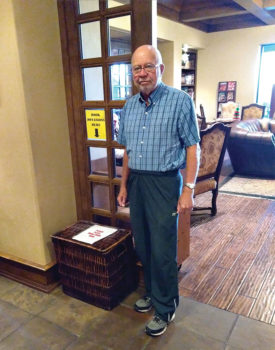 Larry Thomson, Library Co-Chair
Except for occasional use of POA funds to purchase large print books, all books, magazines, puzzles and movies in the library come from your donations. Residents and renters have been very generous over the years. Because of the limited shelf space, only the most current fiction books can be retained. Presently, fiction books copyrighted 2010 and prior are donated to the VA Hospital or Arizona Veterans Home in Tucson, The White Elephant, Animal League of Green Valley, Goodwill of Green Valley, Pima County library branches or local schools. Phil Geddes, our Donations Coordinator, determines the most appropriate place to take the donations. In 2017, over 7,000 items (including magazines) were donated to the above organizations.
A substantial number of items placed in the donation box located in the hall outside the library do not meet our shelving standards. Rather than discourage unusable donations, the Library Management Team has agreed to provide a public service by accepting all items and finding the appropriate home for them. But, please no more 1926 Engineering Tables or operating manuals for the TRS 80!
If you are a regular user of the library also consider being a regular donor. One current book a year from each of our users would serve us quite well.
The library does not want to rely on POA funds, cash donations or proceeds from book sales because of the administrative complications, so keep those books and other items coming in.