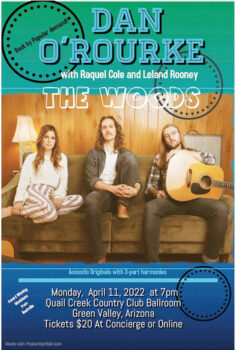 The Woods band, composed of Dan O'Rourke, Raquel Cole, and Leland Rooney, received a standing ovation from over 300 people at their concert in Quail Creek this past November. They asked the audience, "If we come back in April, will you come back?" The audience roared, "Yes!"
Well, they are coming back! And they will be bringing even more songs, as well as old favorites.
On Monday evening, April 11, The Woods will perform in the ballroom at the Madera Clubhouse from 7 to 9 p.m. Tickets are available from the Member Services desk or online. No tickets will be sold the night of the concert.
The Nashville-based band formed during COVID lockdowns and has been performing livestreams every Tuesday for the past two years. They are now performing in person and have performed for audiences all over the U.S. to standing ovations. While each of them has solo music on the major music platforms (iTunes, Spotify, etc.), they are just releasing the first recordings as The Woods beginning in March. All three are award-winning musicians living in Nashville. Their three-part harmonies often remind listeners of Crosby, Stills & Nash or the Eagles. Talented songwriters and performers—you won't want to miss this special show.