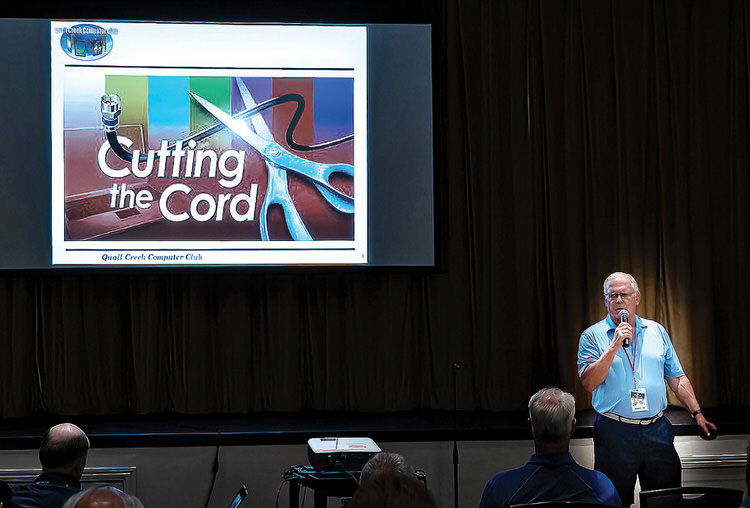 On Sept. 21, the Quail Creek Computer Club held its monthly meeting and presentation which was open to all QC residents. More than 50 people attended. The evening started with a short business meeting consisting of a brief review of recent activities, a report on membership, and a treasurer's report. Then Steve Sanford, who lives in Quail Creek and is the president of the Computer Club, presented a talk outlining how to eliminate cable TV and view your shows via streaming.
Steve had presented a talk a couple of years ago on cutting the cable cord and streaming. The talk at the September meeting consisted of both an update on the streaming services that are available, as well as an eight-step process to actually implementing it.
The eight-step process that Steve presented is summarized as follows (without the detail he showed):
Step One: Set up your home Internet plan with unlimited data; consistent high speed is a must.
Step Two: Write down which TV shows are must-haves for you and your family. Once you have your list, compare what different streaming services provide to replace your requirements. You may need or want more than one streaming service.
Step Three: Replace your recorded shows (via Digital Video Recorder—DVR) with streaming options.
Step Four: Install a TV antenna for local channels. Check out nocable.org.
Step Five: Use a streaming device (e.g. smart TV, game console, ROKU, Fire TV, Apple TV).
Step Six: Decide if you care about watching (live) sports. Streaming options can be expensive.
Step Seven: Do a trial run before you actually cut the cord.
Step Eight: If everything is ready, it is time to cancel your cable service.
Following this presentation, Steve held a question-and-answer session. This covered a wide range of topics and possible problems. Steve noted that his slide presentation is now available on the Computer Club website.
The next general meeting of the Computer Club, open to all QC residents, is planned for Oct. 19 at 7 p.m. in the Madera Ballroom. We are trying to get a speaker from CenturyLink to present and discuss their internet capabilities—now and in the future.
If you are interested in learning more about the Computer Club, go to our website at quailcreekcomputerclub.org and click on the "General Info" tab. To see a calendar of current classes, click on the "Education" tab. To speak to someone about the club, come to the lab in the Creative Arts and Technology Center building during open lab hours (which are listed on the website calendar). Dues are the same for one family member or two; only $20 per household for the calendar year.