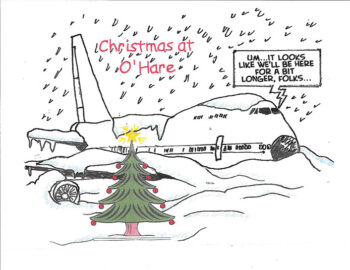 Bill Entwistle
The Quail Creek Performing Arts Guild (PAG) is pleased to announce that they are now able to perform again! PAG has been busily preparing for their annual Christmas show which will be performed on Dec. 9, 10, and 11 at 6 p.m. in the Madera Clubhouse Crystal Ballroom. We hope you will join us for an entertaining evening brought to you by your QC friends and neighbors.
The play, which was written by QC resident, Bill Entwistle, and his writing partner, Gregg Carr, is called Christmas at O'Hare. The show's storyline, in a nutshell, is about a group of people getting stranded at O'Hare International Airport during a blizzard around Christmas. As the story opens, you will find that one of the couples who gets stranded, happens to have with them some fruitcake. But it's a special fruitcake—fruitcake laced with marijuana! As you would suspect, mayhem takes place. With Christmas music entwined in the story, one could call this show a Christmas musical.
If all goes as intended, this one-act show will be broken up into sections to allow for a wonderful holiday dinner prepared by our fabulous chefs at Quail Creek. To conclude the festivities, the PAG Chorus will also provide a few songs of Christmas music to enhance your evening's experience.
Ticket sales will take place in late October and November, and will be sold by PAG members. Watch for the announcements in What's Happening for ticket sale dates. You may contact Bill Entwistle at 815-257-2279 for more information.