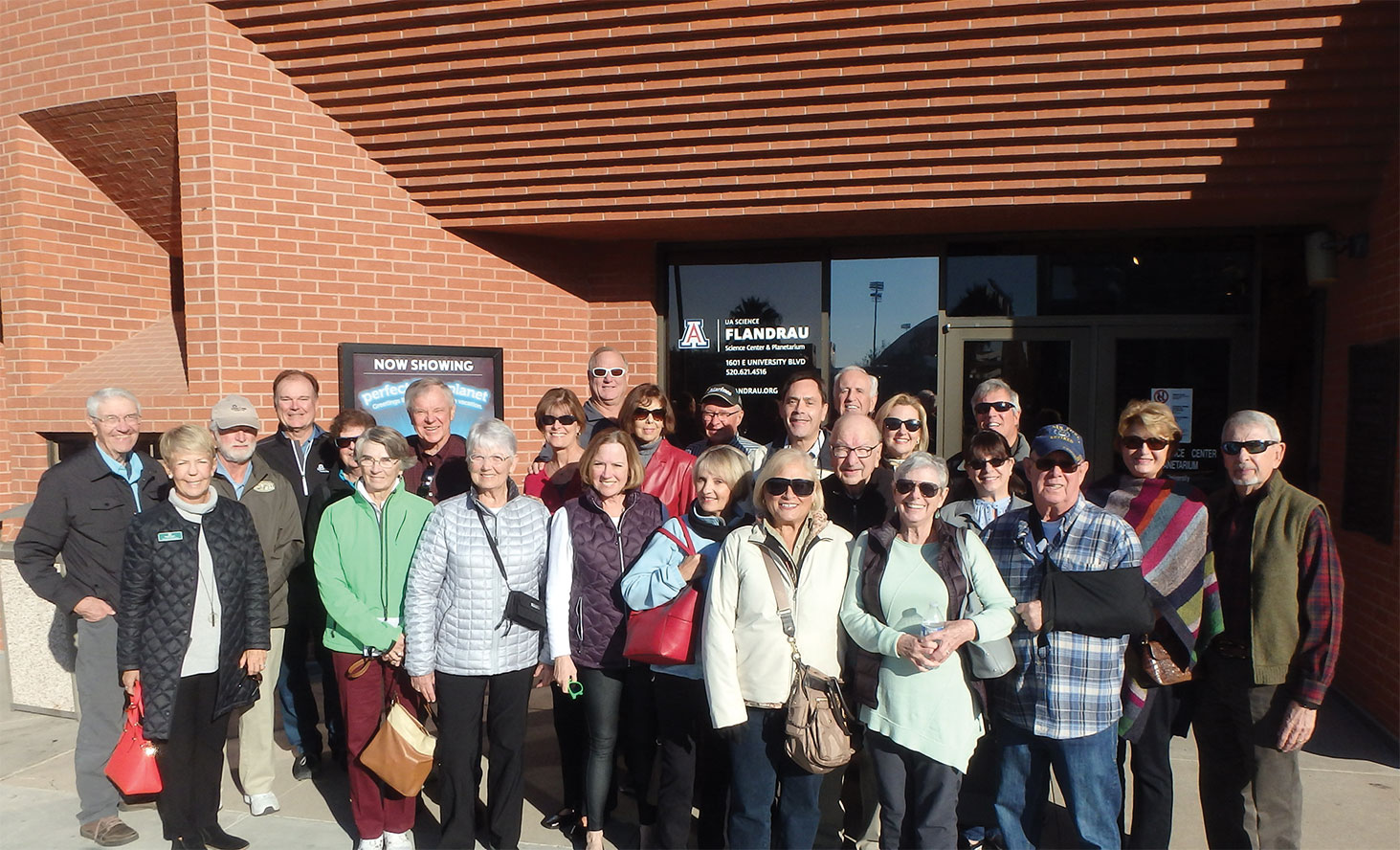 Jerry G. Bryant
January 11 was a crisp winter morning when members of the Cool Car Club rolled into the Arts and Tech Building's parking lot for their usual pre-departure check-in. The outing this day was "multi-modal." The destination for the cool car portion of the trip was the Mercado Market, the Western terminus of the Tucson Street Car line. Once there, members purchased tickets and awaited the next street car. Following a pleasant ride through Tucson aboard the street car members disembarked at the Second and Cherry Street stop for a two-block walk to Flandrau Planetarium on the University of Arizona campus.
Flandrau Science Center and Planetarium got its start with a 1972 bequest from the estate of Grace H. Flandrau, noted author and frequent winter visitor to Tucson. The University decided to use the generous gift to fund a facility that would increase public understanding and appreciation of science. The Planetarium was designed by Tucson architectural firm Blanton and Company and opened its doors to the public in 1975.
Although the club arrived early for their private showing of the Tucson Sky & Beyond program the planetarium staff was most welcoming and accommodating. The planetarium's console operator was very skilled and expertly guided club members through the constellations, our solar system and the universe beyond. Afterward members visited the must see mineral exhibit in the planetarium's basement.
For lunch the Cool Car Club strolled across the U of A campus to arrive at The Dutch to find that the restaurant had prepared special Cool Car Club menus. As with the planetarium staff the restaurant staff was warm and welcoming. For the trip back, the restaurant was conveniently located by a street car stop.
Next month the club will head north for an overnight Frank Lloyd Wright Architectural Tour, visiting the Arizona Biltmore and Taliesin West (Wright's winter estate) in Phoenix/Scottsdale.
Sound like fun? Join our ranks and drive with us. Your car is far less important than showing up with a smile on your face. If you think your car is cool so do we. Contact Jerry Bryant, [email protected], for more info or to join the club.