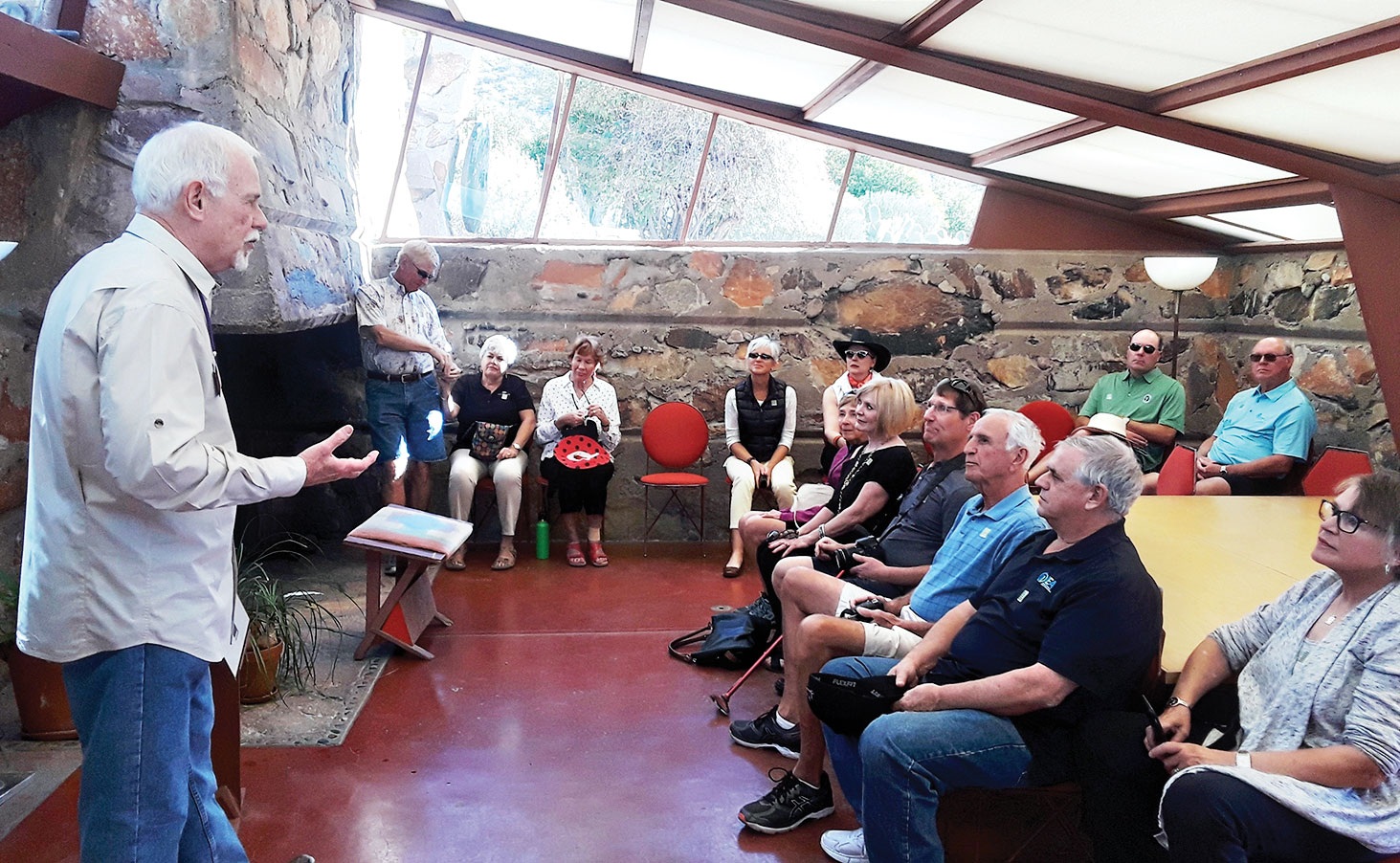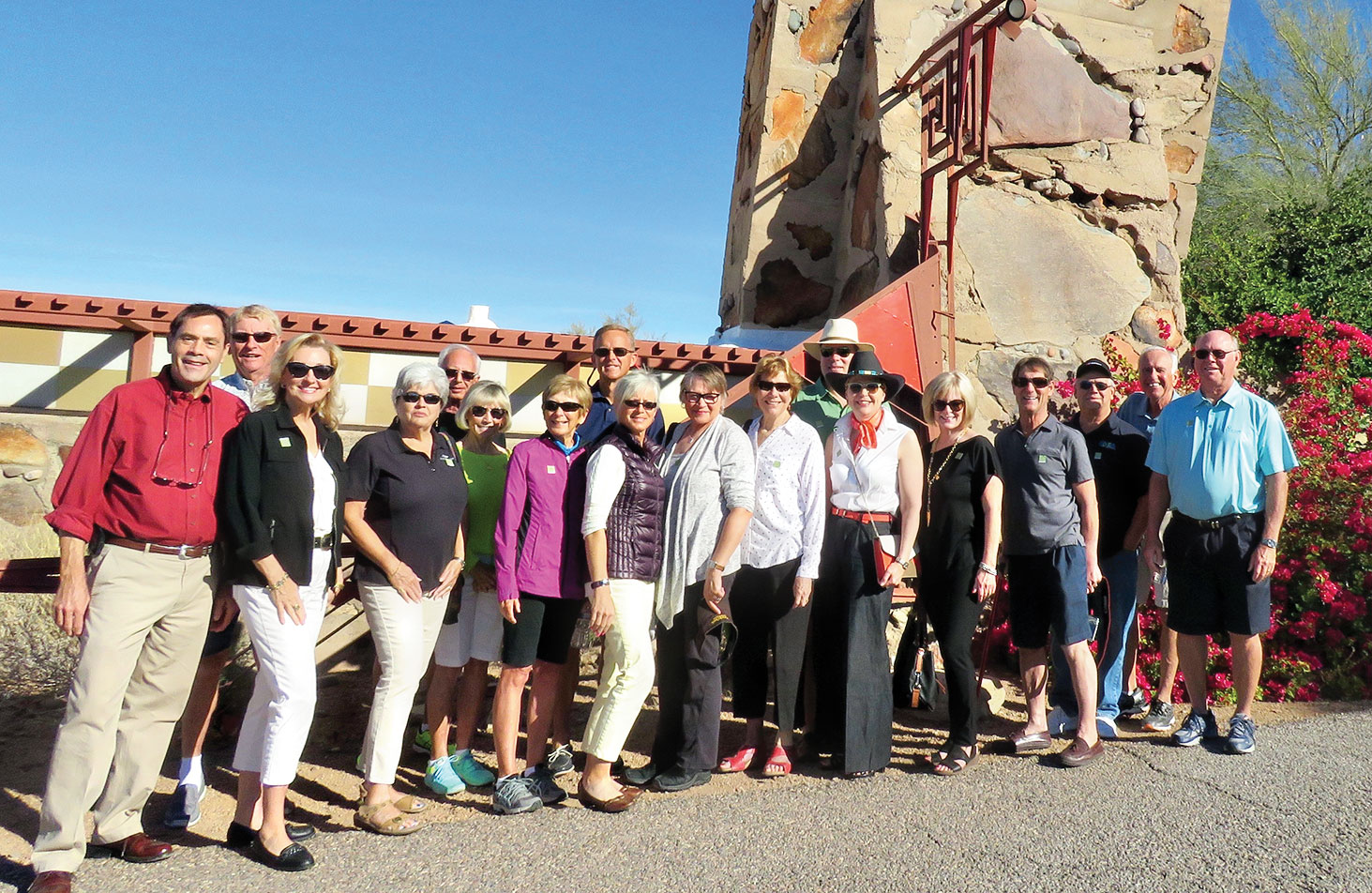 Jerry G. Bryant
On its second overnight road trip this season, February 8-9, the Cool Car Club pointed their grills north and headed up I-10 to Phoenix. Destination – Frank Lloyd Wright history in Arizona. The first stop was the Arizona Biltmore Hotel. Wright consulted on this project with former student Albert Chase McArthur. The hotel, first opened in 1929, is known for its Biltmore Block, a variation on a textile block first used by Wright to construct private homes. Cool Car Club members enjoyed a docent led tour of the property that showcased Wright's influence, the building's history and stories of famous guests through the years. The hotel's bar is famously remembered as the setting for a late night impromptu performance by Frank Sinatra, Sammy Davis Jr., and Liza Minnelli.
Club members gathered the next morning at Taliesin West, Mr. Wright's winter home and school in the desert from 1937 until his death in 1959 at the age of 91. The Cool Car Club enjoyed a private tour of the buildings and grounds with a docent that was both entertaining and extremely knowledgeable in Mr. Wright's design philosophy of organic architecture and his personal history. Recounting a story that was of particular interest to our group of car enthusiasts the docent related the tale of the two Lincoln Continentals. Passing a Lincoln dealer one day Wright instructed his assistant to pull over. He made a grand entrance into the dealership in his cape and walking stick. Inside he tapped the hood of one new Continental with his stick and informed the dealer he'd take it. A nearby new Continental convertible got the same treatment. He further instructed the dealer he'd like both cars painted Cherokee Red. Finally, he informed the dealer that he'd pay nothing for either car or their new paint jobs. A couple of weeks later he and his assistant arrived at the dealer to find two Cherokee Red Continentals waiting for them to drive off. This is a bit of car negotiating that will likely never be replicated – even by members of the Cool Car Club.
Mr. Wright's concept of organic architecture – material and design that are appropriate to the place, it's people, and the time – is evident at Taliesin West. Today this timeless facility serves as the main campus of the School of Architecture at Taliesin and houses the Frank Lloyd Wright Foundation.
Next month our intrepid group will run the third annual Cool Car Club Road Rally. Each two-person team will receive their rally instructions at the starting line then take off at five-minute intervals to navigate the course that will terminate this year at Casino del Sol. Each team's instruction sheet is scored to see how many check point questions they answered correctly and how they performed on the navigation and timing tasks. A plaque will be awarded to the first place team while everyone enjoys the camaraderie over lunch. Entry fees for the rally will benefit the Green Valley Food Bank.
Sound like fun? Join our ranks and drive with us. Your car is far less important than showing up with a smile on your face and wanting to have fun. If you think your car is cool so do we. Contact Jerry Bryant, [email protected], for more info or to join the club.