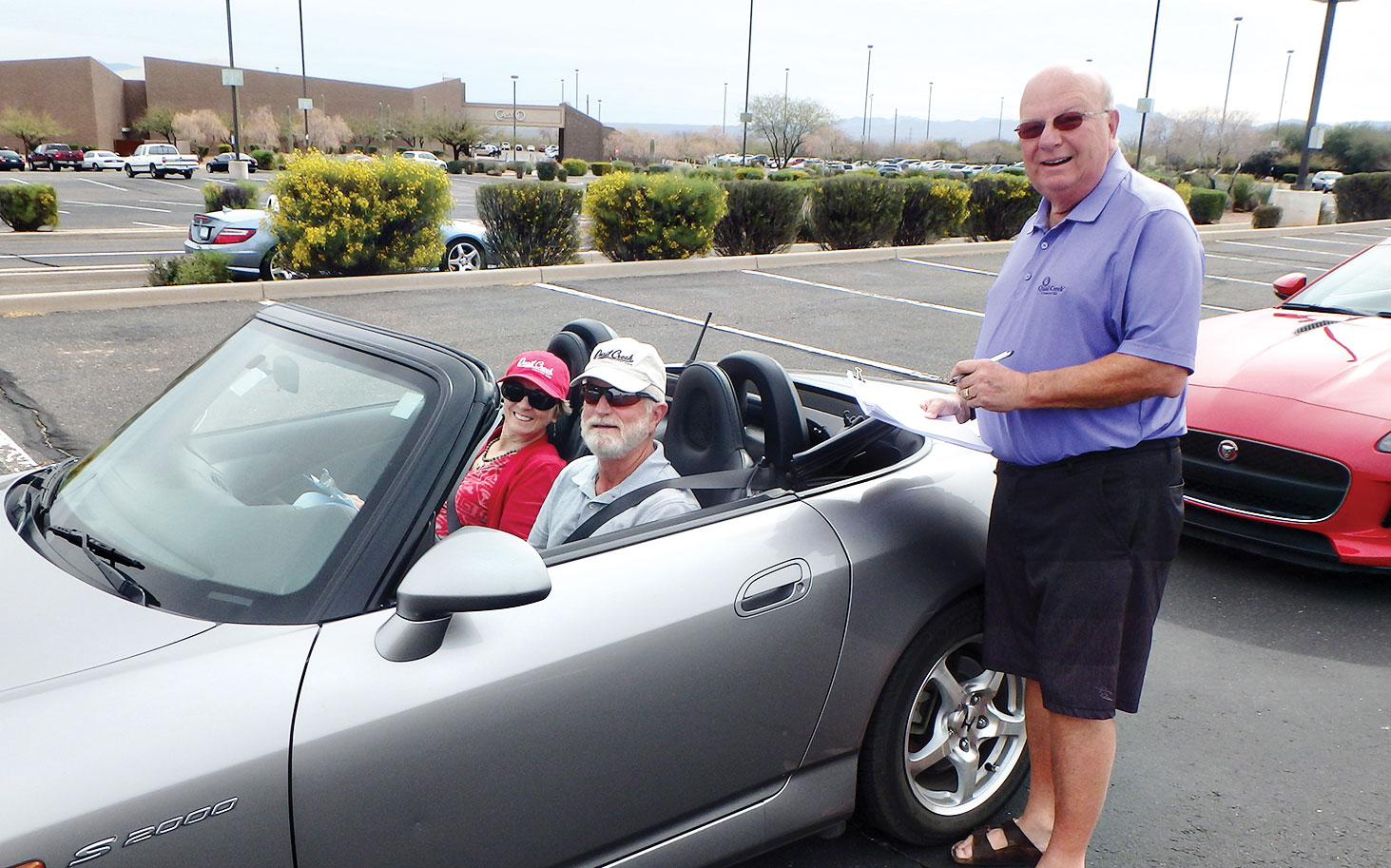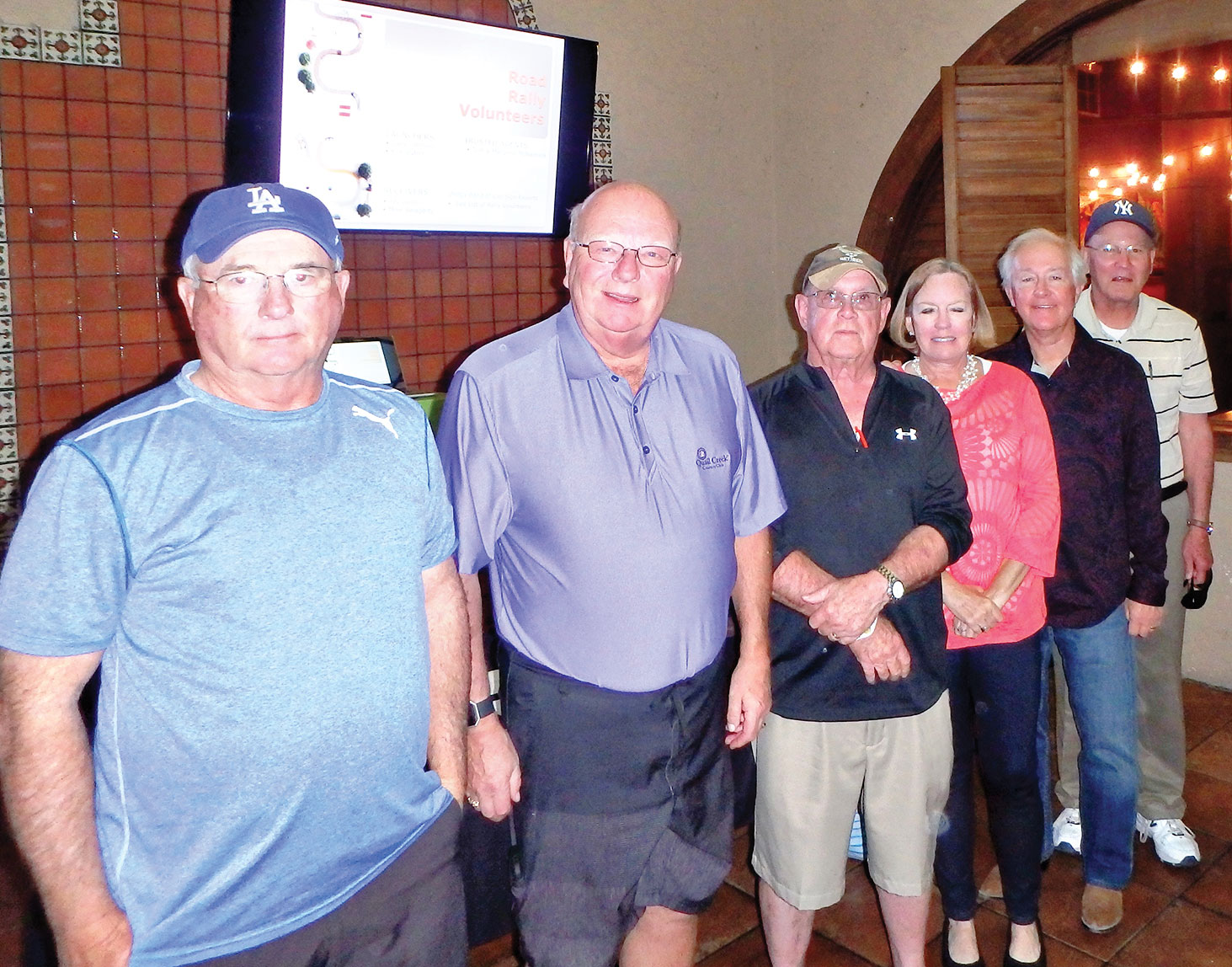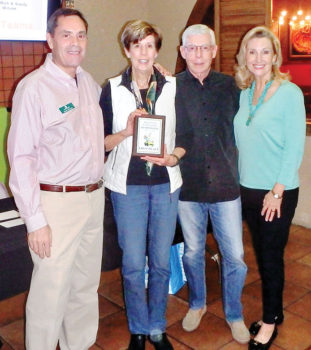 Jerry G. Bryant
Fifteen Road Rally crews ascended on the parking lot at the Desert Diamond Casino on March 10th to see who could best navigate this year's 32-mile course, answer the most questions correctly, and arrive on time at the finish line, Casino Del Sol. The 2018 course contained 23 questions. Two of the questions were incorporated into a timing run in which the teams drove a specific speed and used a stop watch to answer the timing run questions. Each team started with 50 points and had a point added for every correct answer and had a half point deducted for every mile over the course standard and a half point deducted for every minute over or under the course standard time. The course standard time was determined by driving the entire course at the posted speed limit.
Each team paid a $20 entry fee that resulted in a $300 donation to the Green Valley Community Food Bank.
Organizing the rally is an extensive undertaking. Jerry and Deborah Bryant spent three months scouting and developing the course and three teams of Cool Car Club volunteers ensured that the event ran smoothly.
Rally Volunteers:
Trusted Agents. Tom and Margaret McNamara tested the Road Rally Course and made several significant improvement suggestions that were incorporated into the navigation instructions given to each rally team at the starting line. They also helped develop the time and distance scoring standard.
Launch Crew. Gary Johnson and Kirk Butler organized the teams at the starting point and launched them at five-minute intervals. At the starting line each team's beginning odometer reading and departure time were recorded.
Receiving Crew. Jay Lucas and Mike Swagerty met each team at the finish line and recorded their ending odometer and arrival time. They also scored each team's results by adding their correct answers and deducting time and distance penalties.
Top Six Road Rally Teams
A perfect score for this year's run was 73 points (50 starting points, 23 correct answers, and no time or distance penalties). The top teams finished with 70 or more points.
Third Place. Two teams tied for third place with 70.5 points.
Ian Meldrum and Lorene Martin: Call Sign "Big Red"
Jerry Crane and Larry Brooks: Call Sign "Bet the Vette"
Second Place. With 71 points, Dave and Jeanne Hughes: Call Sign "Cool Kids"
First Place. With 72 points, Dick and Sandy Wilson: Call Sign "El Gato"
The Cool Car Club closed out its 2017-2018 season with a mini golf competition and steak dinner on April 12, 2018. Want to join the fun? Contact Jerry G. Bryant at [email protected]